Semi biz starts to cool off
Mobile chips warming up as PC chips chill
---
While chip makers are not white-knuckled with fear as they were during the economic meltdown of late 2008 and early 2009, they were hoping that the recent boom in chip sales would hold for a couple of quarters — and it probably won't.
The latest projections from IT market researcher Gartner are pointing in two directions at the same time. While Gartner has raised its revenue forecast for semiconductors of all kinds for all of 2010, with 31.5 per cent growth to $300bn instead of the 27.1 per cent growth it was forecasting a few months ago, the company's analysts warn that growth in the second half is expected to be below the seasonal norm.
This is just the chip biz realigning itself to the new economy — and to new devices that use microprocessors, memory, and other chips. And perhaps it's also being just a tad jumpy.
"Semiconductor growth in the first half of 2010 was very strong, but it is becoming increasingly clear that the industry cannot maintain the momentum in the second half of 2010 and into 2011," explained Bryan Lewis, research vice president at Gartner, in a statement. "While the impact of the European credit crisis has subsided, the global economic recovery is slowing, and there is concern that electronic equipment vendors are adopting a cautious stance, ready to cut production at the first signs of slowing customer orders."
Earlier this week, Gartner chopped its PC forecasts for 2010, shaving shipment projections by two points. Gartner was reacting to Intel cutting its own revenue guidance last week as PC makers reacted to a slowdown they saw coming by buying fewer chips.
There are bright spots, of course. The PC microprocessor portion of the chip market is still growing, albeit against perfectly awful and easy compares thanks to the economic meltdown. Gartner says that chip sales for mobile phones have been steadily improving, and the forecast for these chips has been raised a bit. But application-specific chips for phones are under "intense competitive pressure," and revenues are only expected to grow by 13 per cent this year.
Smartphones — those with brains, obviously — will account for 18 per cent of shipments, but for 36 per cent of chip revenues in the phone sector when 2010 is done, says Gartner. By 2014, Gartner reckons that smartphones will comprise 41 per cent of units and 64 per cent of revenues. (Not everyone needs a smartphone, and not everyone on the planet can afford one or has access to the network services and bandwidth that would make them more than just a cell phone with pretensions.)
The DRAM memory sector of the chip racket is white, white hot because memory makers cut back capacity when the global economy started melting down and have been slow in ramping up production. Why? Simple: when they can charge high prices for memory since there is a shortage of parts, there is little motivation to start flooding the market. But once one memory maker goes all in and starts ramping, they will all have to pump up the production volumes and drop prices to compete.
In 2010, Gartner says that the DRAM sector will see revenues rise by a whopping 82.5 per cent, to just under $42bn. The whipsaw is coming in 2011, however, and in 2012 Gartner is expecting memory makers to get whiplash, with sales dropping 29 per cent.
NAND flash memory is expected to keep chugging along, growing steadily through 2013 as smartphones and media tablets lap it up.
Separately, the Semiconductor Industry Association has put out its statistics for global chip sales for the month of July, and revenues across all geographies and chip types increased by 37 per cent, to $25.2bn. That was up 1.2 per cent sequentially from chip sales in June. The SIA calculates revenues on a three-month rolling average to mask the ups and downs of the market, so take those numbers with a pinch of salt and maybe some curry.
"Worldwide sales of semiconductors were strong in July despite growing indications of slower growth in the overall economy," said SIA president Brian Toohey in a statement. "The continued proliferation of semiconductors into a broad range of products provides opportunities for industry expansion even in a period of slower overall economic growth. Although recent public statements from a number of major manufacturers have emphasized limited visibility for the near-term, we continue to expect that industry growth for 2010 will be in line with our mid-year forecast of 28.4 per cent."
Up through the end of July, semiconductor sales are up 46.7 per cent to $169.2bn, according to the SIA. It is staring to look like $25bn is the new monthly norm, as you can see here: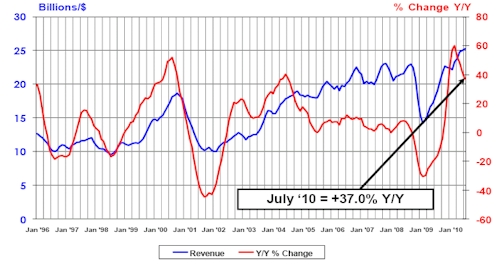 Worldwide monthly semiconductor revenues and annual growth/decline.
As you might expect, considering who manufactures most of the PCs and electronics and an increasing number of servers, chip sales in the Asia/Pacific region dominate, accounting for $13.48bn in July. That's absolutely flat compared to the June rolling average. Chip sales in the Americas were up 3.6 per cent sequentially to $4.75bn, according to the SIA, and were up a minor eight-tenths of a percent in Europe. Japan ate $3.88bn in chips in July, up 3.1 per cent.
While the year-on-year growth rates are much larger than this — 52.7 per cent in the Americas, 34.2 per cent in Europe, 19.9 per cent in Japan, and 38.4 per cent in Asia/Pacific — those sequential numbers are probably a better indicator of what is — and is not — going on in the chip racket right now. ®