NASA says it has selected finalists in an engineering competition to design an "inflatable loft", reminiscent of the extending roofs often fitted to camper vans, but in this case intended to deploy from the roof of a "hard-shell prototype habitat" for use by astronauts on the Moon or Mars.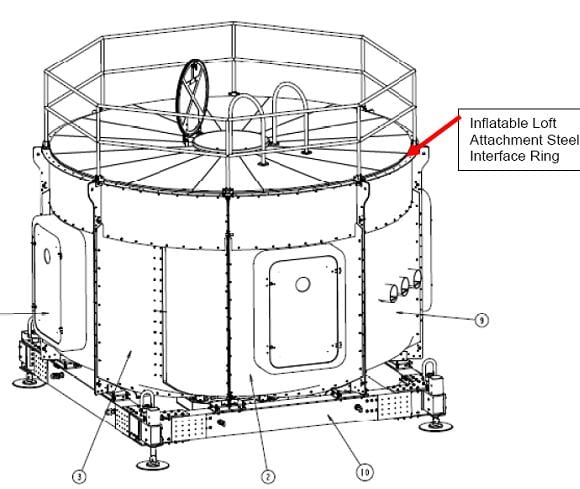 Mobile home for the trailer parks of Mars. Soon: camper-van style popup roof.
"This competition gives these students the opportunity of a lifetime," said NASA Chief Technologist Bobby Braun at NASA Headquarters in Washington. "They'll design and build new hardware. If their team wins, they'll get the chance to integrate their designs into a NASA hard shell habitat and see it field tested next summer."
The inflatable second storey for the prototype Martian or lunar mobile home is to interface with NASA's "Barrel Interface Ring" on the roof of the hardshell ground floor. It should offer room enough to sleep four, and be reconfigurable as a "crew gathering" or "group meeting" area.
Naturally, on airless bodies such as the Moon, micrometeorites puncturing one's air-filled habitat podule are a serious concern. The competing design teams are instructed by NASA to "assume a 2-layer Lunar MM/SE bummer shield"*, which sounds reassuring.
Following initial announcement of the compo earlier this year, the space agency has now selected three finalist teams from Oklahoma State University, the University of Wisconsin-Madison and the University of Maryland, who will now battle it out to see who gains the space camper-van popup roof title. The winning inflata-loft will undergo "field testing", according to NASA, next year.
Sadly "field testing" will not mean any deployment of the astro mobile-home to Mars, nor even the Moon. President Obama has made it clear that in his view no US astronaut will be returning to the Moon at any point in the next few decades: none will even go beyond low Earth orbit until the 2020s, perhaps on a trip to an asteroid passing relatively near (as opposed to the more numerous asteroids of the Belt, orbiting mainly between Mars and Jupiter).
Comment
It's fair to say that the ambitious Moon-then-Mars NASA plans of the Bush era were never actually going to happen, as Congress refused to pay for them: so it isn't actually Obama's fault that US manned spaceflight - most probably, human manned spaceflight in general - seems set to remain stagnant for at least the next decade or so. Certainly we Brits can't really carp, having consistently as a nation refused to fund any manned spaceflight at all, ever.
But to anyone who feels that humanity ought to be getting on with spreading itself out beyond its vulnerable and ultimately doomed home habitat while it still can, this is a depressing background**. No amount of worthy inflatable campervan-roof tomfoolery by NASA seems likely to change the reality - that the students who win this competition will be middle-aged at best, quite possibly retired or even long dead, before anybody actually needs such equipment. ®
Bootnotes
*Honest: See this NASA pdf, page 13.
**"If man survives for as long as the least successful of the dinosaurs — those creatures whom we often deride as nature's failures — then we may be certain of this: for all but a vanishingly brief instant near the dawn of history, the word 'ship' will mean— 'spaceship.'" (Arthur C Clarke)
We aren't doing very well so far.