This article is more than 1 year old
Paul Allen's patent madness not worth single penny
Execution wins. Not ideas
Open...and Shut Businesses aren't built on ideas. They're built on execution. Google didn't win because it was the first to the search market. It won because it did search better than anyone else, and devised an ingenious way to monetize it.
This, more than anything else, is what makes the US patent system, overrun by patent trolls, so broken: it rewards ideas, not execution against them.
Anyone can think up a brilliant idea. The difficulty is in doing something with it.
Just ask Microsoft co-founder Paul Allen, who recently sued...everyone. Well, everyone except Microsoft, in which he continues to own a fair amount of stock, and Amazon, with whose executives he likely shares boat outings on Lake Washington.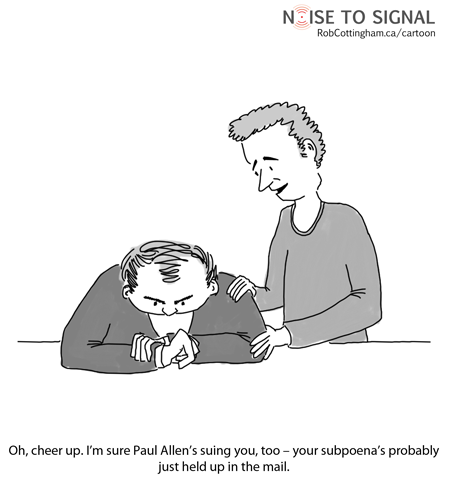 For all the other cool kids, however, there's a lawsuit for that. If you're not on the list, don't despair! Rob Cottingham offers hope in a recent Noise to Signal cartoon.
Allen apparently started out trying to actually do something with his patented "innovations," but he failed. Why? Well, his former colleague at Interval Research, Terry Winograd, gives some clues:
At Interval there was more of an explicit strategy to bring things to market as opposed to PARC, where that wasn't the orientation for many of the people there....

[Question from the interviewer: Why was Interval unable to succeed in the market?]

Interval got completely sideswiped by the web. It was started just before the web. In fact, my first exposure to Mosaic was through a summer intern at Interval. All of a sudden all of the money and talent and everything else got sucked into the web. It dried up the pool there, to some extent. It's hard to know what would have happened if the timing hadn't been that way. Interval was looking at devices, at things people use, and at the home, and not looking at putting commerce onto the internet.
Irony, thy name is Paul Allen!
Here's the man now suing most of the world's most successful web companies for patents that Interval didn't even intend for the web, according to one of its own employees. Hindsight may be 20/20, but did Allen really need 10 years to figure out that he completely failed to turn his patents into web-related businesses?
Perhaps he needed 10 years to get up the courage to pretend his weakly drafted patents would stand up in court. Or perhaps he was waiting for just the right moment - like a few weeks after nobly committing to philanthropy on a grand scale? Short on cash, Mr Allen?
Allen is suing on just four of the 300-plus patents at Interval's disposal. Other patents, as Techflash suggests, put a target on the backs of Twitter and Foursquare.
Legal experts argue that Allen's 10-year wait to file may make his patents unenforceable. It should.
But an even more compelling argument for me is that Allen never actually did anything with them. He spent $100m of his cash developing the ideas, and now expects payment for that work. But real businesses get paid by customers, not lawsuits, and Allen should be no different. The fact is that he failed to turn ideas into substantive businesses. The law should not reverse business failure with legal victories.
If Allen wants to be remembered fondly, and Forbes reporter Lee Gomes speculates that Allen does, then he should stick to the success he had with Microsoft and the philanthropy he has done since then. Microsoft was more than idea. Interval? Not so much. It was an expensive exercise in blue-sky brainstorming, which is nice, but not worth $0.01, much less the $100m it took to amass his patents. ®
Matt Asay is chief operating officer of Ubuntu commercial operation Canonical. With more than a decade spent in open source, Asay served as Alfreso's general manager for the Americas and vice president of business development, and he helped put Novell on its open-source track. Asay is an emeritus board member of the Open Source Initiative (OSI). His column, Open...and Shut, appears every Friday on The Register.