Vulture 1 Mk 2 release mech prepped for testing
Coming soon: Hypobaric chamber - The Revisiting
Well, we now present the finished set-up, with a 500g test weight suspended underneath: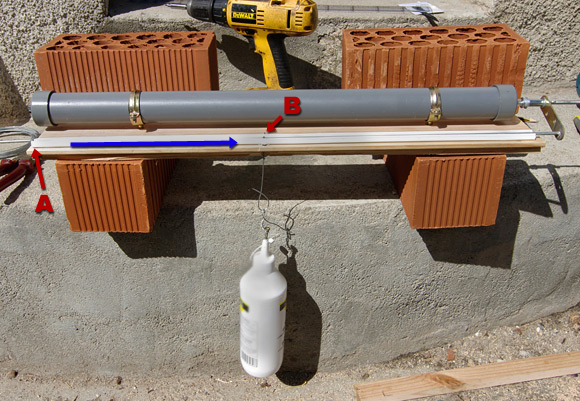 To clarify, the unattached end of the release rod starts at position A, travels in the direction of the blue arrow until it reaches the Vulture 1 suspension loop (B), and away we go...
You're probably wondering now if the force of the expanding air inside the oxygen tube will be sufficient to overcome the friction in the system.
Bear in mind that all moving surfaces will be lubed with a special low-temperature grease, but a quick blast without any lubrication at all showed it didn't require much bike pump energy to operate the system:
So, we're back off to QinetiQ on 13 September to test the Mk 2 to 20,000 metres at an ascent rate of around 300 metres a minute, which is how fast we expect PARIS to soar heavenwards. This will tell us if the mechanism works at slow rates of air expansion, something which did for the Mk 1 (more here, if you missed the link above).
Expect our report on a further bout of world-class boffinry in a couple of weeks... ®
Additional PARIS resources
Our dedicated PARIS section, with all previous updates, is right here.
New to PARIS? We have a basic mission summary here (pdf).
Our Flickr page, with all previous photos.
Check out our YouTube channel - currently featuring a few kit tests.