The equivalent of a "rock star", having lived a "fast, flashy life and died young" apparently exploded with unimaginable violence in the year 161,000 BC and spewed "guts" across an enormous area. The exploding prehistoric luminary had previously ejected a "string of pearls", according to investigating boffins.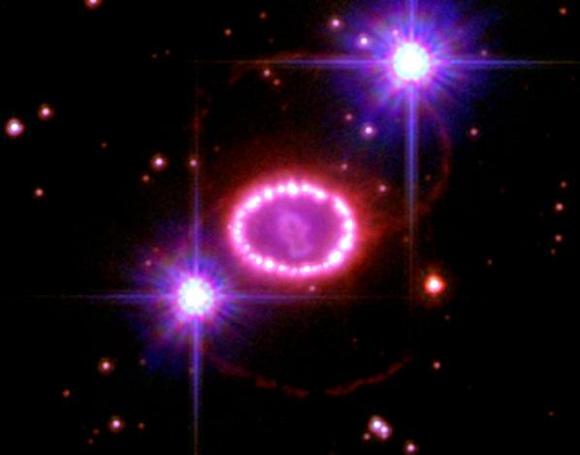 Live fast and die young - having ejected a pearl necklace across the entire galaxy.
The rock star in question is perhaps better known as the supernova 1987A, located in the Large Magellanic Cloud just outside our galaxy. The light of 1987A blowing up only reached the Earth 23 years ago, as it lies roughly 163,000 lightyears away.
Astroboffins have since gleaned many valuable insights from watching the long-ago explosion unfold, often using specialised instruments aboard the orbiting Hubble Space Telescope. 1987A is the closest star to be spotted blowing up since 1604.
"To see a supernova go off in our backyard and to watch its evolution and interactions with the environment in human time scales is unprecedented," says Kevin France, lead boffin on a recent study of the monster extragalactic blast. "The massive stars that produce explosions like Supernova 1987A are like rock stars - they live fast, flashy lives and die young."
According to France and his colleagues, 1987A had been showing signs of internal disturbances long before it actually blew up. The "String of Pearls" (pictured), a colossal, glowing gaseous smoke-ring some 6 trillion miles in diameter, is thought to have been coughed out during preliminary rumblings perhaps 20,000 years before the troubled star finally exploded.
"New observations allow us to accurately measure the velocity and composition of the ejected 'star guts,' which tell us about the deposition of energy and heavy elements into the host galaxy," says France.
Boffins believe that most of the heavier and more interesting elements present in the universe are created during supernova explosions. Fusion processes such as those powering normal sun/starlight and relatively minor nova events etc are insufficiently violent to weld the basic hydrogen of the universe - almost all matter now in existence is hydrogen - into the large, complex atoms found further down the Periodic Table. Much of the very stuff of Earth and even of our own bodies was originally forged from lighter elements during supernova explosions unimaginably distant in space and time.
According to France, the only instrument which can analyse the String of Pearls in the ultraviolet spectrum is the Hubble - in particular its Space Telescope Imaging Spectrograph (STIS) instrument. The STIS' power supply unfortunately broke down in 2004, but Shuttle astronauts mended it again on a final servicing mission last year.
"We are seeing the effect a supernova can have in the surrounding galaxy, including how the energy deposited by these stellar explosions changes the dynamics and chemistry of the environment," says France.
He and his colleagues have just published a new paper detailing their findings in hefty boffinry mag Science. ®