Review Ubuntu fans, fire up your virtual machines. The beta release of Ubuntu 10.10 is here. Maverick Meerkat, as this release is known, is actually several weeks ahead of the original schedule, and that means Ubuntu 10.10 is on track for its final release October 10.
We wouldn't suggest using the beta in a production environment, but if you'd like to install it for testing purposes, you can grab the beta from the Ubuntu download page.
The first thing you'll notice on booting 10.10 is that the Ubuntu UI has changed again. The look of Maverick is not radically different from the previous release, but it has a number of subtle improvements that make the default theme a bit nicer. Application windows sport smoother gradients. Window buttons have been enlarged and refined (though they are still on the left by default). And there are some slick new progress animations. The default Humanity icon set has also been spiffed up for 10.10 and now includes some icons for external devices such as the Motorola Droid and iPod touch.
Overall, Maverick's default theme makes for the sexiest Ubuntu yet (well, aside from that overly-purple desktop image).
Other parts of the Ubuntu interface have seen makeovers as well, like the revamped sound menu and the redesigned Ubuntu Software Center. The Software Center is quite a bit more user-friendly with a new "History" option in the side menu, showing all package installations, removals, and upgrades by date or by searching.
But possibly the biggest change in the Software Center isn't the interface: it's the inclusion of the "For Purchase" software section. As of the beta there's still no actual software to buy, but the interface is beginning to take shape. Unfortunately, in my testing, I was unable to login to Launchpad to even see the purchase screen. Eventually, the plan is for commercial Linux software to be purchased and installed right alongside the familiar free options, but for the beta, things are still a bit rough around the edges.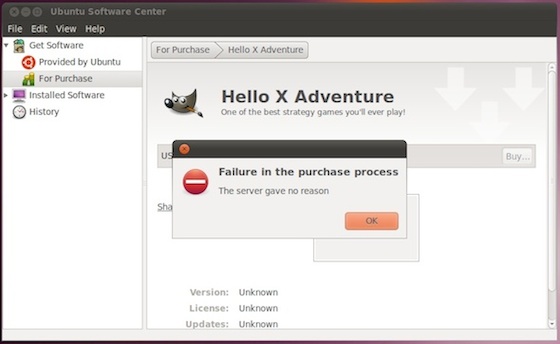 Ubuntu's (fledgling) 'For Purchase' Software Center
Still, it'll be interesting to see how the Ubuntu community reacts to the idea. Will Ubuntu end up with an App Store of its own? There's certainly enough free (as in beer) software out there to cover most people's needs, but offering an easy way for users to purchase software might attract more big-name commercial software to the platform.
The Software Center is also part of Ubuntu's continuing foray into built-in social networking, with the ability to post your installs to Twitter (via Gwibber). In the previous alpha release, Rhythmbox also got the social touch with a new button to share your favorite tracks with your friends via Twitter, but the button has been removed in the beta, and it seems that, at least for now, the feature has been put on the back burner.
Similar topics