Russia's Cold War raygun air fleet back in operation - reports
Monster laser-planes ready to blind US satellites?
Reports suggest that Russia has re-started work on a Cold War project intended to produce a laser cannon mounted on an enormous military transport aircraft in the style of the USA's Airborne Laser Testbed 747.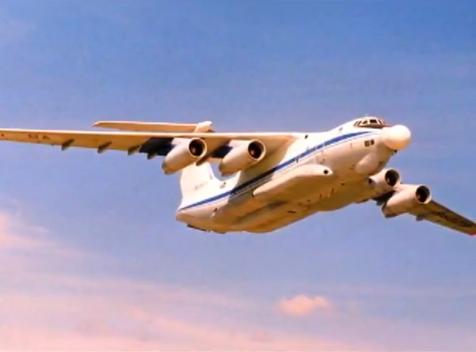 Ha ha, imperialists - it is not only you who can build expensive crazy rayguns in giant aeroplanes!
Erratic Muscovite journal Pravda reports the development, saying that the Russian military raygun programme was started in 1980 but then mothballed in the '90s when funds became tight. Now, however, it is said to have been restarted.
Though Pravda doesn't specify the name of the programme, it does state that the weapon system is carried aboard a modified Ilyushin-76 heavy transport: this suggests that the report refers to the Beriev A-60 programme of the 1980s and 90s. The A-60 supposedly mounted a one-megawatt gas laser.
Normally a Pravda report wouldn't carry much weight, but photos apparently taken earlier this year seem to show that at least one A-60 is flying again after 15 years in mothballs. There was also an Interfax report to the same effect earlier last month.
Pravda seems unsure whether the reanimated A-60 is intended primarily for blinding long-range enemy sensors - for instance those on satellites or reconnaissance aircraft - or for use along the same lines as the USA's formerly planned Airborne Laser (ABL) fleet. The ABL was intended to cruise near hostile missile fields and beam enemy ICBMs out of existence during their boost phase, as they rocketed up through the atmosphere full of explosive fuel.
That might have been practical in the case of US laser-jumbos patrolling off the North Korean coast, but even the US air force might struggle to protect ABLs on station within range of Iranian silos - far less those of Russia. In any event, the Obama administration has decided it doesn't want an ABL fleet and has downgraded the project into a research effort - hence the prototype raygun-jumbo is now known as the Airborne Laser Testbed (ALTB). It is thought to pack multi-megawatt punch, several times more powerful than the A-60s.
Similar criticisms on usefulness would apply to any nuke-nobbling use of Russia's renascent rayguncraft.
"You must understand that we will have to deliver this laser through the airspace of the United States," Russian defence journo Igor Korotchenko tells Pravda.
"Clearly, all our aircrafts will be shot down."
It seems relatively unlikely that the Russian military has actually revived the A-60 for the purpose of swatting down boosting US missiles - the idea that it might instead blind satellites or spy planes is much more credible. Particularly in the case of satellites, having the laser high above most of the atmosphere would make it much more effective.
Pravda also hints at the possibility that the A-60 is flying again to enable Russian ICBM designers to harden their rockets against laser weapons: though if so they would seem to be wasting their time, given that the US has decided not to deploy such things. ®