What a brilliant idea for a competition! Nokia has hired Pamela Anderson and Gossip Girl actor Ed Westwick to appear in The Commuter a short film short shot entirely on the not-quite-launched Nokia N8 - and you can appear in it too.
Two roles are up for grabs - one, we guess a guy, who shares bedroom with Pamela and the other, we guess a girl, to get "up close and personal" with Westwick in an elevator.
You can sign up at http://www.starwithpam.com/ or http://www.starwithed.com/
Says Pamela: I'm really excited about the film and can't wait to get on set. I don't want to give too much away, but my scenes are shot in a bedroom and I'm looking forward to going back to my Finnish roots and sharing my bed with a Nokia N8!"
Enough already: make way for a gratuitous lingerie pic.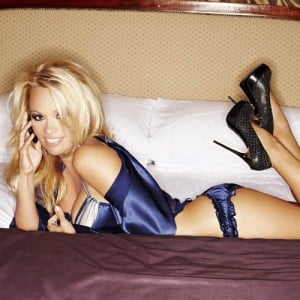 In bed with the Nokia N8
The Commuter shoots at the end of the month and gets a real-life premiere in October. It is directed by the McHenry Brothers, who have just finished their first feature length film, Jack Boots on Whitehall, starring Ewan McGregor, Rosamund Pike, Richard E Grant and Timothy Spall.
Nokia UK is running the comp to "showcase the Hollywood quality" of the N8's 12Mp camera. This incorporates Carl Zeiss optics, Xenon flash and a sensor "rivalling those found in compact digital cameras". ®