Review Those who want their notebook PCs to play music and video while managing a burgeoning digital image collection should cast an eye at the HP Pavilion dv6-3085ea. It's an attractively slim computer with a design outline that's generally reminiscent of Apple's MacBook Pro. The clamshell even stays closed thanks to Apple-style magnets, instead of a conventional sliding catch.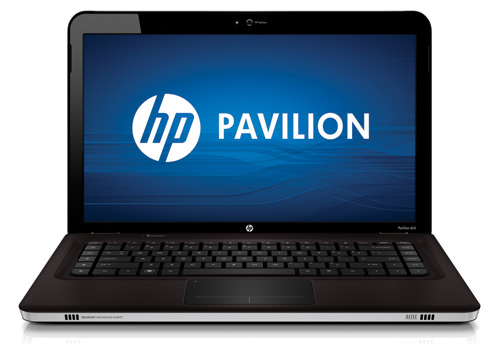 HP's Pavilion dv6: bright and clear at the right angle, the LED display appears dark at the slightest tilt
The outer surface is pointlessly textured in accordance with the current fashion. I confidently predict that in a few years we'll look back at this fad with some embarrassment. Today's modish texturing is tomorrow's Artex.
Opening the lid reveals a big, shiny 15.6in display that makes use of technology HP refers to as 'High-Definition LED BrightView'. It produces superb on-screen quality if you adjust the angle just right and refrain from moving your head too much. However, the subjective visual brightness and contrast changes radically if you tilt the display the slightest angle off that sweet spot.
Because of the way the display hinges over the rear edge of the notebook, all connectivity ports are located on the left and right-hand edges, with the stereo speakers built into the front. In addition to four USB ports (one of which doubles up as an eSATA port) and Gigabit Ethernet, HP wins our high-five award for including an HDMI port. However, if you need to attach a legacy VGA device or a DVI cable, you'll need to buy an HDMI adapter.
The optical drive is a tray-loading CD and DVD rewritable device with LightScribe capability. So having burnt your photos, movies and music to a LightScribe disc, you can flip it over and etch the label into the top surface.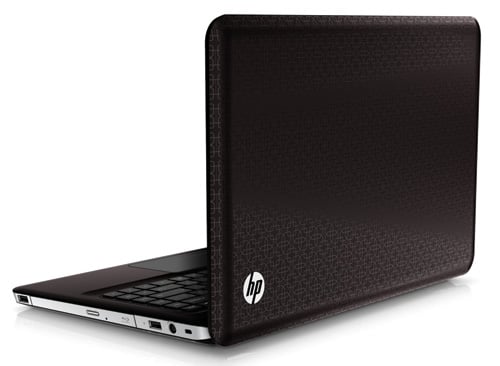 Textured surfaces on notebooks is a consumer fad that HP is happy to indulge
Talking of storage, the HP Pavilion dv6-3085ea is fitted with a 7200rpm 500GB hard drive. This is a respectable capacity for a notebook that could end up being stuffed with holiday pics, audio and home video. HP has also built in a multi-format camera card reader – an essential inclusion for a media-friendly computer.