Following its oil spill in the Gulf of Mexico, BP went from spending about $57,000 a month on Google search ads to an enormous $3.6m outlay for the month of June alone, according to a report citing internal Google documents.
Documents obtained by Ad Age list BP as Google's sixth largest advertiser in June. Early that month, BP began purchasing ads for keywords such as "oil spill" not only on Google but on Yahoo! and Microsoft as well, pushing netizens to its "www.bp.com/oilspillnews" site, where they could, in the company's words, find "Info about the Gulf of Mexico Spill" and "Learn More about How BP is Helping".
According to Ad Age, BP also purchased video search ads, which send surfers straight to its online videos designed to spin the oil-spill news.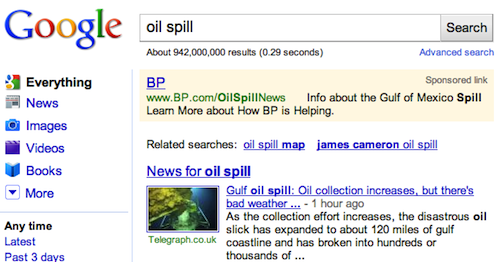 The leaked documents also list other top Google advertisers for the month of June. AT&T Mobility tops the chart with $8.08m in spending - part of its effort to promote Apple's iPhone 4. Apollo Group, the outfit responsible for those ubiquitous University of Phoenix online-course ads, spent $6.67m. Online travel firm Expedia hit $5.9m. Amazon reached $5.8m, and eBay spent $4.2m.
Google rival Apple spent just under $1m, Ad Age said.
According to the documents leaked to Ad Age, each of these outfits accounted for less than one per cent of Google's US revenues in June, and together, the top ten advertisers listed in the documents accounted for just five per cent of total revenues.
The documents list 47 advertisers that spent more than $1m in the month of June, 71 that spent between $500,000 and $1m, and 357 that spent between $100,000 and $500,000. All of these customers are directly billed by Google. The documents do not cover the who-knows-how-many advertisers who pay as they go via Google's online Ad Words system. ®