It is not a coincidence that Oracle is paying close attention to the Netra server lineup since taking over Sun Microsystems back in January. Telecommunications companies and service providers of various sorts still have lots Sparc/Solaris iron installed, and it is here where Oracle must build a defensive perimeter and hold the line with its Netra products.
In May, Oracle snuck out a carrier-grade, Sparc-based Netra T6340 blade server for its Netra 6000 enclosure, both of which have been certified at the Network Equipment Building System (NEBS) 3 standard level. The NEBS standards apply to DC-powered server and switching equipment and were established by Bell Labs back in the 1970s to ensure that equipment used in telco systems was rugged enough to provide telephone service during disasters. The Netra T6340 is a single-socket blade based on the eight-core, 64-thread Sparc T2+ chip running at 1.4 GHz, not the faster 1.6 GHz Sparc T2 and T2+ chips and not with two-sockets as it probably should have done.
Perhaps there are more Netra servers right around the corner at Oracle's OpenWorld, which will be held in San Francisco from September 19 through 23. Oracle is expected to deliver its "Rainbow Falls" Sparc T3 chip, which was due around mid-2010 according to the old Sun roadmaps and which is slated for around now according to the new Oracle plans.
The Sparc T3 chip is expected to pack 16 cores per socket, with eight threads per core, and work in machines with one, two or four sockets. Sun had planned to run the chip at 1.67 GHz, and it is unclear if Oracle will be able to crank up the clock speed. A three-month delay in deliveries of the chip, which is being baked by Taiwan Semiconductor Manufacturing Corp, could have more to do with improving yields and cranking clocks than anything else. Hopefully, Oracle can get the clock speed up to 2 GHz or higher and make the Sun Fire and Netra server lines using the Sparc T3 chip and running Solaris 10 more competitive.
The two new Netra machines announced by Oracle are not based on the Sparc T family of chips, but rather Xeon chips from Intel.
The Netra CP3270 is a blade server that adheres to the AdvancedTCA (ATCA) blade form factor standard established by the telco industry. All ATCA blades can, in theory, plug into any ATCA chassis, allowing for telcos to mix and match gear from different vendors. This is in contrast with the Sun Blade 6000 chassis and its Netra 6000 variant, which have a blade form factor established by Sun that is not only incompatible with ATCA standards, but also not compatible with any other enterprise blade server on the market. (Each of the server makers have their own chassis and interconnects, giving them more account control than they have with rack-based machines.)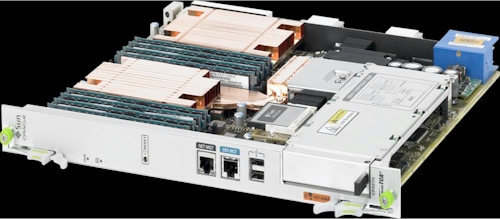 The Oracle Netra CP3270 AdvancedTCA blade server
The CP3270 ATCA blade server is based on Intel's low-voltage LC5518 processor and its related 5520 chipset. This chip sports four cores and eight threads and runs at 1.73 GHz with a turbo mode that hits 2.13 GHz. The LC5518 has 8 MB of L3 cache memory, has three memory channels, and is rated at 48 watts using Intel's thermal design point (TDP) thermal ratings. The CP3270 is a two-socket blade server with eight DDR3 memory slots, but only supports 4 GB memory sticks for a maximum of 32 GB. (This seems odd, considering that 16 GB sticks are now commonly available.)
The ACTA blade server has two Gigabit Ethernet ports, two 10 Gigabit Ethernet ports, a CF-2 slot for flash memory, and one Advanced Mezzanine Card (AMC) slot and one Advanced Rear Transition Module (ARTM) slot for peripheral expansion. These slots can have 300 GB SAS, Gigabit Ethernet or 10 Gigabit Ethernet, or Fibre Channel adapters slid into them. The Netra CP3270 is designed to mate with Oracle's Netra CT900 blade server chassis, but will work with any chassis that meets the ACTA/PICMIG 3.0 or 3.1 standards.
Oracle says that the CP3270 has about twice the oomph of the Netra x64-based blade server it replaces, and this may seem had to believe considering its predecessor was the CP3250, which packed two 2.13 GHz, quad-core Xeon L5408 processors from Intel and 24 GB of memory onto a blade. But the earlier ATCA blade was based on the old frontside bus design, while the new one sports the QuickPath Interconnect that nearly quadruples the bandwidth between processors and memory.
Oracle has not provided pricing for the CP3270 blade server, but says the blade comes with both processors on the board and in two configurations - one with 16 GB of memory and another with 32 GB.
The new Netra X4270 is also doubling up the performance of its predecessor, the Netra X4250, while sticking with the now 18-month-old Xeon 5500 series of quad-core processors from Intel. (Intel revamped these chips with the six-core Xeon 5600s back in March, but telcos do rigorous testing and want long-lived products that are available for much longer time spans than the standard parts.)

The Oracle Netra X4270 rack server
The Netra X4270 is a two-socket server in a 2U rack chassis that is based on the same Xeon L5518 processor and 5520 chipset used in the Netra CP3270 blade server. The rack server has 18 DDR3 memory slots, and supports both 4 GB and 8 GB memory sticks, for a maximum of 144 GB of main memory; it has room for three 2.5-inch SAS disks. The Netra X4270 has four Gigabit Ethernet ports on its system board and has two full height, full width PCI-Express 2.0 slots (one x8 and one x16) and four low-profile slots (all x8, and one of them occupied with a SAS host bus adapter). The Netra X4270 can use AC or DC power, whichever way you swing.
In an entry configuration with one processor, 4 GB of memory, and a single 300 GB disk, the Netra X4270 costs $6,596. Adding a second processor and boosting memory to 12 GB raises the price to $8,754. With two processors, three disks, and 24 GB of memory, the price is $10,872.
The Netra CP3270 supports Oracle's Solaris 10 and Enterprise Linux 5.X operating systems and its Oracle VM hypervisor as well as Microsoft's Windows and Red Hat's Enterprise Linux 5.X. The Netra X4270 rack-based carrier-grade server adds in support for Novell's SUSE Linux Enterprise Server and VMware's ESX Server hypervisor.
One more thing. Oracle did not announced Netra carrier-grade rack or blade servers using the new Opteron 4100 or 6100 processors from Advanced Micro Devices. It probably should, but it probably will not. ®