Nikolas Sarkozy has become the latest high profile victim of a Google bomb, after bloggers linked his Facebook page to the phrase "trou du cul".
Schoolboys searching for foreign insults will discover the French for 'asshole' is now synonymous with the diminutive President, according to Google at least.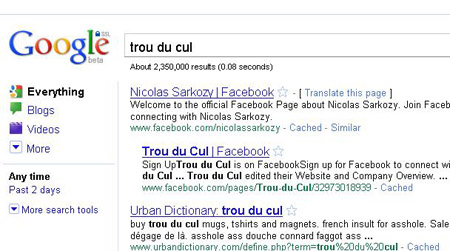 Sarkozy's leadership is currently under pressure from the left over pension reforms and actions against gypsy camps. Bloggers have convinced Google's algorithms that he is the most relevant result for "trou du cul" by linking pages containing the jibe to his Facebook profile.
He's by no means the first political leader to be targeted by Google bombers. Most famously US bloggers linked George W Bush to the phrase "miserable failure" during his administration. Google eventually broke the link in 2007. ®