In blockbusting news, a NASA spacecraft has discovered a bridge wide enough to carry a two-lane road on the far side of the Moon.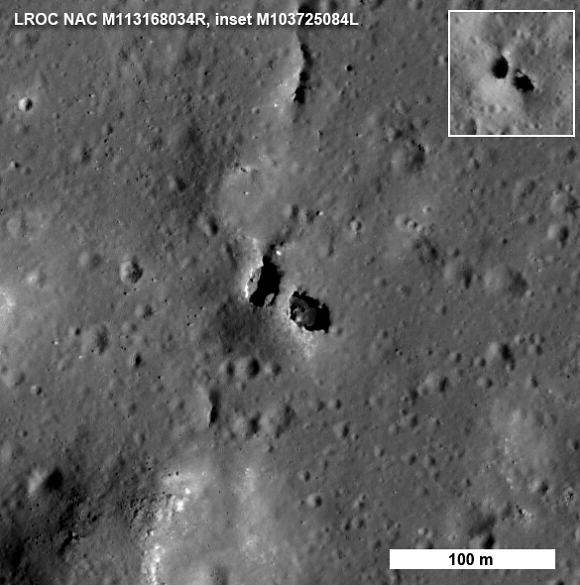 Not so good for playing pooh-sticks.
Images sent back by the Lunar Reconnaissance Orbiter (LRO) as it sailed above the King Crater caused excitement among investigating boffins on Earth as the bridge was revealed. According to Mark Robinson, Principal Investigator of the LRO Camera team:
Who would have thought? Natural bridges on the Earth are typically the result of wind and water erosion - not a likely scenario on the Moon.
The LROC boffins also specify that "the bridge is approximately 7 meters wide on top and perhaps 9 meters on the bottom side, and is a 20 meter walk for an astronaut to cross from one side to the other". It spans a lunar pit or canyon two to four stories deep.
Robinson and his colleagues, excitingly, consider that the bridge may well be something to do with the networks of underground tunnels previously spotted on the Moon by the LRO.
Disappointingly, the lunar bridge and tunnel discoveries aren't considered to be the work of escaped Nazis - perhaps having fled the collapsing Third Reich in an early rocket ship developed from the V2 missile programme - while constructing a hidden Moonbase. Nor are the various other widely-accepted lunar farside/subselenean dweller theories - Elvis, aliens, Tibetans etc - given any credence.
No, the NASA selenologists think rather that the formations occurred as lava flowed away from beneath them in the past, leaving solid tunnel roofs (and in this case a bridge) still in position above the vacated space. According to Robinson, the bridge would have been created during the violent meteor strike which formed the 77-km-across King Crater:
The impact melt that was thrown out of the crater pooled on the newly deposited ejecta and must be many tens of meters thick, allowing its interior to stay molten for a long time. As the local terrain readjusted after the shock of the impact, the substrate of this massive pool of melt was jostled to some degree. Local pressures built up and the melt moved around under a deforming crust.

You can see that the south end of the bridge extends from a small local rise, shaped something like a blister. Perhaps some melt was locally pushed up forming the rise, then the magma found a path to flow away, leaving a void which the crusted roof partially collapsed? Right now we do not know for certain...
Though President Obama has lately said that humans will not return to the Moon as had been intended (the LRO was actually intended to identify good landing spots and Moonbase sites), there remain plans for less ambitious lunar missions - perhaps even featuring small tunnelling robotic mole-cruisers of some sort.
It may yet be possible for humans to gaze at the underside of the spectacular Moonbridge, even if only by proxy. ®