This article is more than 1 year old
Google squirrels into human brains with Scribe experiment
Sounds like a subdural hematoma to me
Google has created an atmosphere of McCarthyism and a postage stamp-sized image of what the hell the world will look like if us hacks use the firm's latest creepy tool, dubbed Scribe.
In case you're wondering, the opening sentence of this story was written (almost entirely) in the latest feature to hit Google Labs, which is Mountain View's experimental play pen for developers.
The ad broker seems to be doing rather a good line in tools that try to do your thinking for you... and your life, career, beauty and the beast all over. Oops, the autocomplete function completes words, sentences and paragraphs when you let it do the talking. Like just then.
But for the sanity of this Reg journalist, the remainder of this story will now return to normal mode.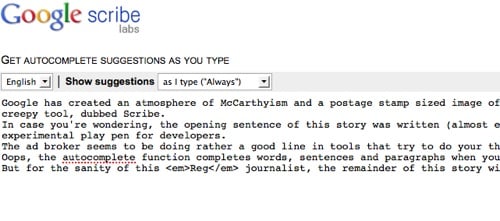 It's alive!
Ah, that's better.
Scarily, Google Scribe can follow a user around the interwebs. The only input to set the whole thing in motion requires that the user drags the tool's Bookmarklet to the bookmarks or favourites toolbar in their given browser.
Scribe then straddles any active text field on a webpage once the Bookmarklet has been clicked on.
Put more succinctly, the autocomplete function just got a whole lot creepier.
Scribe doesn't simply scan for text entered previously by a user into their browser - it now guesses what words or sentences you're likely to type next. And then does it for you.
Some might view the latest Chocolate Factory experiment as a useful tool for filling in online forms, bluffing exam papers and writing a novella or two for the Web2.0 wasteland.
Others will probably grumble that it's yet another data mining exercise from Google's abracadabra algorithm machine that should remain a strictly laboratory-only app. ®