Has HP blundered big time?
Ejected CEO joins Ellison
---
Oh dear HP, what have you done, what Pandora's box have you opened to unleash terror and despair on yourself?
This is all to do with ejected HP CEO Mark Hurd who is joining Oracle as its co-president.
You couldn't get this okay'd as a film script; a famously successful CEO of HP, who made it the largest IT supplier in the world, is booted out after improper expense reports relating to the services of a meeter and greeter lady at customer exec events. She sued him for sexual harassment, he settled privately and then argued with HP's board to stop it becoming public. They nixed that, found a few wrist-smacking expense reporting errors, and effectively fired him with brown stuff all over the fan.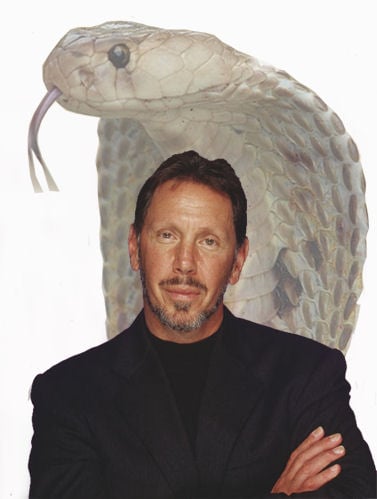 Here's looking at you HP.
Now he has joined one of HP's leading rivals, Oracle, as co-president in charge of sales, marketing, and software support.
Oracle, of course, bought Sun, and now has its own server and storage hardware and software, which it will sell integrated with Oracle's various software products against HP and the other server systems suppliers. Hurd has an unparalleled amount of competitive insight into HP; the most intimate knowledge of its products, and marketing and service strategy, its strengths and weaknesses, and the characteristics of its senior executives. There is no-one else outside HP with similar knowledge.
The HP board should have been able to get an agreement that he wouldn't work for a competitor when they paid him off. As their lawsuit mentions use of confidential information and not breaking any agreement to work for a competitor, it's apparent that the settlement agreement with Mark Hurd didn't specify this. As it is, HP has launched a belated lawsuit which mentions the use of confidential HP information by Hurd as he carries out his new job.
Maybe a non-compete is often unenforceable in California law, but, even so, the amount of competitive information involved here would surely sway a court in HP's favour. This lack of a non-compete agreement looks like a blunder.
There is another aspect to this latest twist in this Silicon Valley headlining CEO reality TV show; HP is now facing a competitor with the most intimate and high-level knowledge of its secrets and intentions and it is headless, leaderless, having chief financial officer Cathy Lesjak operating as an interim CEO while a board committee searches for a new CEO to replace Mark Hurd.
Mark Hurd could well have a huge chip on his shoulder, wanting to prove a major point against HP for the way it forced him out. He will be backed by the ferociously competitive Larry Ellison, who has already said HP's lawsuit is vindictive and threatens any further co-operation between Oracle and HP. Great; not only has HP equipped Oracle with the strongest anti-HP competitive weapon imaginable; it now has Larry Ellison on its case as well.
Oracle's sales team will shortly be racing towards every HP account, and every HP channel partner they can find. Imagine the marketing campaigns coming; "EVA is dead; Oracle knows because HP's CEO says so," or "We swapped out HP for Sun in our database machines for a reason and HP's ex-CEO says we were right."
This is not off the wall, not unimaginable; this is Larry Ellison's Oracle, with Ellison calling HP's boards "idiots" for firing Hurd and taking umbrage at its "vindictive" lawsuit.
When you are in the snake pit you shouldn't find the biggest cobra you can and give it a kick. HP has woken the Oracle cobra up and its unblinking gaze is fastened on HP with fangs flickering at the ready.
HP's apparent ability to shoot itself in the foot over CEO and board matters is becoming legendary. Ex-CEO Carly Fiorina and ex-chairwoman Patricia Dunn, forced out over pre-texting, must be laughing fit to bust. HP's founders would be shuddering in their garage. HP risks becoming notorious and a textbook Harvard Business School case for making an exceptionally silly blunder concerning the employment of its CEO.
The company is in deep, deep doo-do. Anybody who tells it not to panic simply doesn't understand the depth of the hole it is in. It needs a tremendously skilled and well-qualified CEO right now, instantly, who can hit the ground sprinting, not running, to raise its game and the morale of its troops and channel partners. Servers, storage and networking are the battlegrounds. It should give David Donatelli, who looks after this trio of products for HP, the job at once. ®