Dell launches Opteron 4100s into Boxes-o-Cloud
Wanna know the price? Come in and sit down, friend ...
With a substantial portion of Dell's server business based on custom and quasi-custom designs that shrink server sizes and offer better performance per watt than the standard PowerEdge machines, the server maker cannot rest on its laurels or play favorites with Intel as it did in days gone by. Sometimes, companies want a machine that leverages processors from Advanced Micro Devices, and Dell must make such a box.
And so it is with the third of Dell's machines to be based on the latest Opteron processors from AMD.
The first two AMD boxes this year from Dell were general-purpose, high-volume PowerEdge boxes based on the 12-core "Magny-Cours" Opteron 6100s, but the machine announced today is in the PowerEdge C cloudy infrastructure line that debuted in March. The other big difference is that the new PowerEdge C6105 announced today is based on AMD's low-end "Lisbon" Opteron 4100 processors, which are aimed at single- and dual-socket servers where low power, compact size, and low price are more important than raw oomph.
The PowerEdge C line takes mainstream some (but not all) of the designs that Dell's Data Center Solutions bespoke server design and manufacturing unit has created for select hyperscale Web customers. (Well, they are partially mainstream, by which is meant that you can order these non-standard machines like you would a normal PowerEdge, but it is a more complex sales engagement that involves Dell poking around to make sure you are getting the right box for the job and the prices for the machines are not public.)
Dell's two other new AMD servers are based on the Opteron 6100 processors. This includes the four-socket PowerEdge R815 2U rack server, launched in March, and its baby brother, the R715, a 2U box using the Opteron 6100s that came out in June.
The PowerEdge C6105 is a so-called tray server, which puts multiple half-width servers into a single rack-mounted chassis. In this case, the 2U chassis can hold four half width servers, two side-by-side and stacked two high. It would not be easy to make such a quad-server box with a 12-core Opteron 6100 processor without running into power and cooling issues, but motherboard and whitebox server maker Super Micro says it can do it with the 2U Twin2 chassis, which has four half-width, two-socket motherboards using the Opteron 6100s as well as an impressive four-socket SMP machine based on the Opteron 6100s that fits in a tiny 1U rack form factor.
In any event, Dell thinks that the Opteron 4100, which comes in versions with four or six cores per processor socket, is the processor of choice for the PowerEdge C6105. The reason is simple enough: it can cram the same 48 cores into the same 2U of space, but at 6 watts per core instead of 6.7 watts per core with the standard Opteron 6100 parts. That may not seem like a big difference, but for a lot of hyperscale workloads, the machines are I/O and memory bound more than they are CPU bound, so shaving the cost of the CPU in half and a little bit off the power budget matters most.
The PowerEdge C6105 machine is based on AMD's SR5760 chipset and has 12 DDR3 memory slots supporting 2 GB. 4GB, or 8 GB memory sticks for a maximum of 96 GB. For those looking to save on the juice and cut down on the heat, the C6105 can use Samsung's 8 GB low-voltage memory. The C6105 can support 24 2.5 inch SAS or SATA disks of various capacities (from 146 GB to 600 GB each), 24 SATA SSD drives (SLC units in 50 GB or 100 GB capacities), or 12 3.5-inch SAS or SATA disks (with a range of capacities from 250 GB to 2 TB).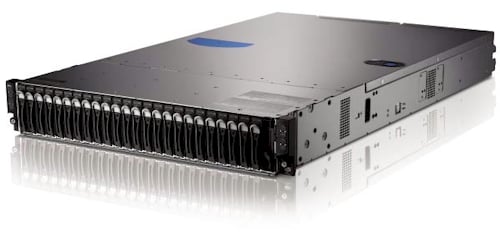 The Dell PowerEdge C6105 Opteron 4100 cloudy box
The PowerEdge C6105 is configured with the two six-core, low-voltage Opteron 4100 EE (short for Extremely Efficient) versions of the Lisbon chips. The 1.7 GHz Opteron 4162 EE and the 1.8 GHz Opteron 4164 EE, to be precise. These chips are rated at 32 watts using AMD's ACP thermal scheme. The 50 watt Opteron HE and 75 watt standard Opteron parts are not available in this cloudy box. (You can read all about the Opteron 4100s, which debuted in late June, here.) The C6105 server nodes have two Gigabit Ethernet ports, two USB ports, one PCI-Express 2.0 x16 slot on a riser card, and one PCI-Express x8 slot on mezzanine daughter card. The RAID disk controller on the server node is an LSI 2008 SAS controller with an optional RAID 5 module. Each node can plug into one quarter of the disks in the front bays of the machine, which has two 92 per cent efficient power supplies that range from 470 to 1400 watts.
Dell is certifying Windows Server 2008 R2 Enterprise as well as the forthcoming Windows HPC Server 2008 R2, on the PowerEdge C6105. Red Hat's Enterprise Linux 5.5 and Novell's SUSE Linux Enterprise Server 11 SP1 is also certified on the box. Microsoft's Hyper-V, Citrix Systems' XenServer 5.6, and VMware's ESXi 4.1 hypervisors are also supported on the box.
One interesting possible use for the PowerEdge C6105 is as cheap server nodes to drive another quasi-custom box just launched by Dell, the PowerEdge C410x, which El Reg calls the mother of all graphics cards because this special chassis, launched a month ago, crams 16 hot-pluggable, fanless GPU co-processor cards into a 3U chassis. That chassis provides switchable PCI-Express links between outboard servers and the GPUs and for workloads that don't need a lot of CPU oomph and are offloading work to GPUs, the C6105 might make better sense as server nodes controlling the GPU co-processors than the existing C6100, which uses more expensive Intel processors in the same four-node 2U tray design.
Pricing for the PowerEdge C machines is not public. Dell says it will be able to ship the C6105 within the next 60 days. ®