Google slaps malware warning on Radio 3 website
Someone's got to be Brahms and Lizt
---
Updated Google is warning surfers visiting BBC Radio 3's website that the classical music domain is a security risk.
The malware threat appears to have been purged by Thursday afternoon but Google warning will not be removed until it has had a chance to re-scan the site and verify that it is clean.
The bbc.co.uk/radio3 site was blacklisted by Google's Safe Browsing tool as a "Reported Attack Page" for "suspicious activity twice over the last 90 days" on Wednesday, as the search engine giant elaborates.
Of the 15 pages we tested on the site over the past 90 days, 4 page(s) resulted in malicious software being downloaded and installed without user consent. The last time Google visited this site was on 2010-09-09, and the last time suspicious content was found on this site was on 2010-09-09.

Malicious software is hosted on 1 domain(s), including kfppp.com/.
It seems that hackers planted malicious scripts on the site that attempt to download Trojans onto vulnerable PCs. The problem was detected by Google on Wednesday and appears to have been cleared by Thursday.
However Google is yet to receive a request to re-examine the Radio 3 site and check all is now well and until it completes this process and updates its records, a process that normally takes a few hours, the warning will stay.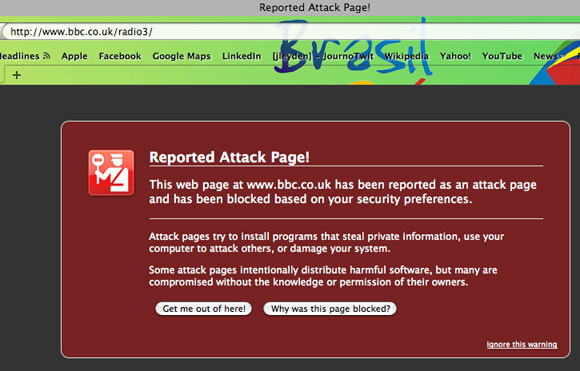 The timing of the warning coincides with the run-up to the Last Night of the Proms, a series of classical music concerts in central London that are a big event in Radio 3's diary and traditionally end with a patriotic rendition of Land of Hope and Glory.
Anti-virus firms said they were unable to find fault with the site on Thursday afternoon.
A senior security consultant at Sophos told El Reg that its anti-virus analysts looked at the BBC R3 site earlier today and didn't see anything suspicious. "We're not sure what Google is basing its warning on," he said.
Chris Boyd, a security researcher at GFI Security, agreed that the Radio 3 site is clean, at least at the time of writing on Thursday lunchtime.
However a Google spokesman said that its diagnosis of problems with the Radio 3 site on Wednesday were correct, contrary to earlier versions of this story that suggested the warning might have been a false. ®