Group Test With DSLRs costing anything from £300 to over ten times that much, it's interesting to note that there's not always a huge difference in image quality between cheap and expensive models.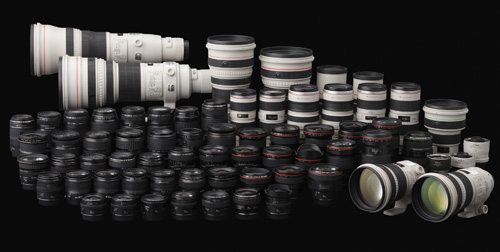 While expensive models such as the Nikon D3s offer superlative performance in low light and at high ISOs, lower down the scale telling the difference between two DSLRs is often an exercise in splitting hairs. More than anything, the calibre of lens attached to a camera often will determine the quality of the final image rather than the camera itself.
That means that the lens that comes with a budget DSLR is hugely important. If this is the first DSLR you've ever owned, it's likely you'll keep the kit lens for a while, so it helps if you're supplied with one that has a decent zoom range and good optical performance. In short, you want little or no chromatic aberrations (purple fringing in areas of high contrast), minimal barrel distortion, and good edge-to-edge sharpness.
If a kit lens isn't optically stabilised, in-body stabilisation is a worthy alternative. In this mode, image stabilisation is applied to the sensor, shifting it very slightly to compensate for shaky hands. In a way, in-body stabilisation is better for those who want to accumulate a decent catalogue of lenses, as non-stabilised lenses tend to be cheaper.
You should also consider your long-term goals. If you want to start selling your pictures, or move from general photography into nature or sports, you need to think about which lenses your camera supports. Canon and Nikon are at an obvious advantage here, with the widest range of lenses. Once you've chosen a body, it may be worth looking into how many own-brand lenses and accessories are available for it.