Review One truly exceptional feature of the K-x is its kit lens. Anyone who's used a few kit lenses will know that they tend not to be the best – worrying build quality and adequate optical performance mean they're typically the first thing you'll upgrade. However, the Pentax 18-55mm f/3.5-5.6 lens that comes with the K-x kit is excellent.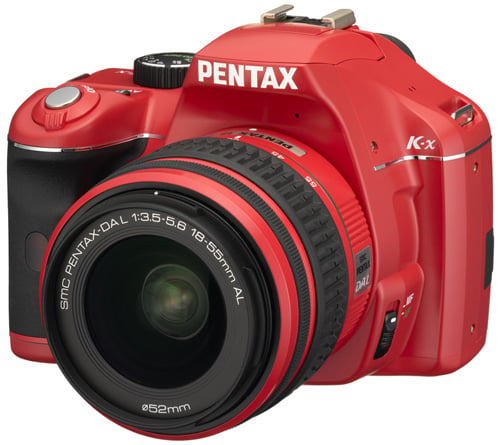 Like all the models in this group, the lens is still made primarily of plastic, including the mount, and doesn't offer any interesting specifications, but the focus and zoom rings are very smooth, and it's extremely sharp. It's unstabilised, but that doesn't matter: every lens you attach to the K-x actually will be. This is thanks to the shifting sensor within the camera body.
The image quality is first rate and the K-x offers two more stops of ISO than any other camera here, with 6400 and 12800 available for those who find themselves working in the dark. In fairness, ISO 6400 isn't bad – you lose a bit of colour from darker areas and give up a significant amount of sharpness, but it's good enough for 'needs must' situations. Of less use is the top 12800 setting. Here, digital noise begins to obscure key details and, as evidenced by the test pictures, the white balance goes to pot.
The K-x is the only camera on test to take AA batteries. Out of the box, this feels like a bad thing. Alkaline AAs provide just over 200 shots, according to Pentax's CIPA testing. However, buy a charger and some rechargeable AA lithium batteries and you'll get just shy of 2,000 shots. On the plus side, AA batteries are ubiquitous, so you're unlikely to run out of juice no matter where you are.
Getting kitted out with rechargeables will add around £20 and that may stick in the craw a bit. Still, there might be a bit to forgive, but the K-x is unique in this company for offering HD video. It will record 24fps 720p footage in AVI format. Quality is superb: the much-feared rolling shutter effect makes itself known when panning or when subjects make their way quickly from one side of the frame to the other, but otherwise I can't object. With the videos limited to five minutes it's restricted, but for grabbing a quick bit of high-res video it's perfect.