Review The topmost plastic of the 14.2Mp Sony A290 might be slightly mottled to make it look like it's a distant relation to magnesium alloy, but pick it up and it's easy enough to guess where the camera lies in Sony's range – the all-plastic finish is a tad uninspiring.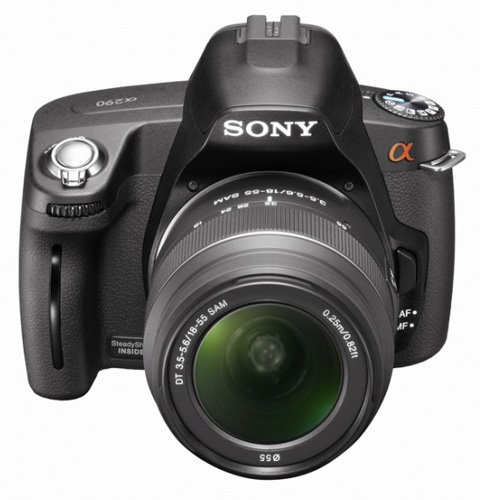 Yet everything falls neatly to hand, and although more experienced photographers would prefer a few more physical buttons to get things done, Sony has made some good decisions. Autofocus mode, continuous shooting and ISO are all quickly accessed from the navpad on the back and a click of the front-mounted jog dial.
Less frequently changed options, such as white balance and metering mode, require slightly more involved menu navigation. The only drawback is the grip – as someone with bear paws instead of hands, getting comfortable was a little awkward.
The A290 has a 2.7in display, the A290 and twin card slots for Sony's Memory Stick Pro and SD cards. Also, like all Alphas, the A290 has integrated image stabilisation, shifting the CCD sensor to accommodate for shaky hands or long exposures.
Usefully, the screen can also display a small guide. It's not as advanced as the Nikon D3000's, but uses a sliding scale to convey information. The shutter speed scale, for instance, shows an icon of a running man on the right and one of someone standing still on the left – the faster the shutter, the farther right the needle moves, denoting its suitability for moving targets. There's a similar diagram for aperture, and both should prove useful if you occasionally forget which way's which.