Selfridges is inviting customers with discerning palates and deep pockets to cough £1,800 for an authentic jamón ibérico puro originally belonging to an acorn-fed Spanish porker.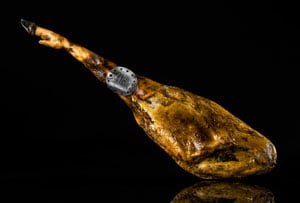 The Albarragena ham (pictured), selected by expert Manuel Maldonado, hails from Extremadura, where pampered pigs roam free while gorging themselves on the fruits of the encina, or Holm Oak (Quercus ilex).
The legs are salted, and cured for three years before dispatch in a "hand-made wooden box wrapped in an apron made by one of Spain's most exclusive tailors", as the Sun explains.
Andrew Cavanna, Selfridges's Fresh Food Buyer, insisted: "Connoisseurs will appreciate the melt-in-the-mouth texture of this truly amazing Spanish ham. The leg may seem to have a large price tag but when you think about the amount of care taken from breeding right through to the curing, it is actually amazing value.
He concluded: "Every single gram will be savoured as one of life's incredible gourmet luxuries."
The exclusive Albarragena offer is limited to just 100 hams, so you'd better get down to Selfridges' food hall in Oxford Street sharpish if you've got gourmet tastes and money to burn. ®