Open...and Shut It may not be that "Every woman adores a Fascist," as the poet Sylvia Plath once caustically penned, but it certainly seems that every market appreciates a monopolist.
However much we may wring our hands over Facebook's dominance of social networking, Google's heavy hand on search, and Apple's grip on mobile market, the reality is that a certain level of monopoly is a very good thing for the development of a market.
Why? Because it gives developers a place to focus their efforts, and a (mostly) benevolent network effect for consumers.
Remember when you were getting invitations from Spoke, Plaxo, and every other wannabe foundation for consumers' social graphs? Thank goodness Facebook came along and rendered them all effectively useless. We may not want Facebook to hoard our data, but the alternative is worse.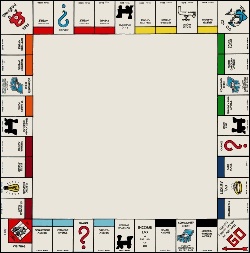 Love it or leave it - the natural order?
Facebook isn't useful because it has a fantastic UI (it doesn't) and it's super-intuitive (tried changing your privacy settings lately?). It's useful because it's where everybody else is. Period. With more than 500 million users, Facebook is the social network, ground zero for my - and probably your - social graph, a fact underscored by its dominance in photo sharing compared to competitors like Flickr. This makes it convenient for users, but it also makes it profitable for developers.
And it's why I just can't see fledgling anti-Facebook attempts like Diaspora making any kind of credible impact on Facebook's momentum.
Or take online advertising. It was somewhat aimless until Google came to dominate online search and advertising. With a myriad of ad networks, the online advertising market struggled to mature. With one big Google pot into which advertisers can throw their money, however, it has blossomed.
The same is true for Microsoft with Windows and Office. No matter what you think of the company's history of legally dubious business practices, which rightly landed Microsoft in hot water with the US Justice Department and the European Commission, Microsoft did more to enable the PC revolution than any other company. With its chip partner Intel, Microsoft offered the industry a common target for development: Windows running x86 chips.
One can argue that Microsoft buried all sorts of innovation by effectively stifling technically superior competition, but this overlooks the critical importance a common platform provided for unlocking third-party developers' innovations. If you don't believe me, just look at the mobile software market, which has been fractured for years and is only now starting to mature thanks to Apple's iPhone.
We're now seeing that mobile market further mature, with Google's Android playing the role that Windows did in the PC revolution. Android looks to be the glue that competitive industry forces can rally around. It doesn't need to be perfect. It just needs superior volume and a relatively open nature.
Done and done.
This is what hegemonic power gives an industry: a place for developers and users to congregate. Smaller companies can seek to get big by marketing their APIs, but once a competitor has critical mass, industries (rightly) tend to shed the also-rans because dragging them along is inefficient.
Nor does this stop innovation. Not for long, anyway. Microsoft couldn't hold back the internet, no matter how hard it tried. Despite the tenacity of its grip on the desktop market, open-source software and cloud computing emerged, both of which have offered new ways of doing old things, and new ways of doing new things that Microsoft Windows and Office couldn't deliver.
New entrants don't win by out-cloning the old world but rather by shifting to a new world with new rules, an idea made popular by Clayton Christensen's The Innovator's Dilemma. These "new rules" favor bottom-up innovation and decision-making, something that open source and cloud computing both enable. Microsoft chief executive Steve Ballmer could sing about developers, in other words, but open source, in particular, sang to them, as Redmonk analyst Stephen O'Grady writes.
Politicians and judges may worry about concentrations of power in technology markets, but I don't. Not much, anyway. History shows time and again that a certain amount of monopoly is good for the development of a market, and that entrepreneurs and open-source developers cleverly adapt and overcome entrenched monopolies through technological innovation.
It's the natural order of technology. Get used to it. ®
Matt Asay is chief operating officer of Ubuntu commercial operation Canonical. With more than a decade spent in open source, Asay served as Alfreso's general manager for the Americas and vice president of business development, and he helped put Novell on its open-source track. Asay is an emeritus board member of the Open Source Initiative (OSI). His column, Open...and Shut, appears every Friday on The Register.
Similar topics