'Is this science, or literature?'
MPs mull 'climate enquiries' that failed to enquire
---
Oxburgh at work
"I would chair a brief study, really, into the honesty of the people - not all the aspects of the science, we were not expected to go into the email saga. But they wanted evidence if people had been behaving dishonestly."
MPs wondered how he could measure honesty.
"I think that we or the University would have been content had we said the researchers there were incompetent-but-honest, or misled-but-honest. We were looking for deliberate manipulation of data that led in a different direction to meet some pre-determined aspect of an agenda. We found none."
This failed to impress Committee member Stringer, the MP told us today.
"One of the biggest attacks on Jones was by Professor [Doug] Keenan, it directly accused him of fraud. One would expect Jones' use of Chinese data to come up. They had been very selective with what they'd put in and left out of their graphs, even if they hadn't fiddled the figures," said Stringer.
Stringer says the practices exposed at CRU undermine the scientific value of paleoclimatology, in which CRU is a world leader.
"When I asked Oxburgh if [Keith] Briffa [CRU academic] could reproduce his own results, he said in lots of cases he couldn't.
"That just isn't science. It's literature. If somebody can't reproduce their own results, and nobody else can, then what is that work doing in the scientific journals?"
The depth and rigour of Oxburgh's panel also raised eyebrows. Oxburgh said the intensive interrogation (described above) had taken several days, but FOIA requests show his team of seven spent just two days on the job, clocking up "45 man hours" including lunches and coffee breaks. The final report amounted to five pages of assessment.
Although the Science Assessment Panel didn't publish notes, MPs have seen a highly critical assessment of CRU's work by Cambridge physics Professor Michael Kelly. [PDF, 540kb], who has acted as a scientific advisor to government.
Kelly quoted Ernest Rutherford, who once said that "if your experiment needs statistics, you ought to have done a better experiment". Complex simulations that can't be exhaustively tested against 'real' data have limited value.
"I take real exception to having simulation runs described as experiments (without at least the qualification of 'computer' experiments). It does a disservice to centuries of real experimentation and allows simulations output to be considered as a real data. This last is a very serious matter, as it can lead to the idea that real 'real data' might be wrong simply because it disagrees with the models."
In fact, this arises quite often in climatology - as we saw here. It provides a good illustration: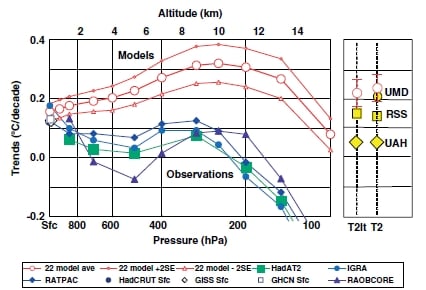 Douglass et al. Temperature time trends (degrees per decade) against pressure (altitude) for 22 averaged models (shown in red) and 10 observational data sets (blue and green lines). Only at the surface are the mean of the models and the mean of observations seen to agree, within the uncertainties.
Observational evidence doesn't find the higher temperatures in the troposphere that the models confidently predicted. The implication is clear: our level of understanding of the climate is much lower than the climatologists claim it to be, and politicians should be careful when devising policy based on the output of computer models.
Where next?
The issue of publication and peer review is a troubling one. MPs didn't raise it yesterday, but may well follow-up with Muir Russell who is scheduled to appear before the Select Committee next month.
The emails show the academics rubber-stamping each other's work, pressuring publications to suppress critical academics, and in promising to subvert academic conventions to exclude papers from the IPCC. "I can't see either of these papers being in the next IPCC report. Kevin and I will keep them out somehow - even if we have to redefine what the peer-review literature is!" wrote Jones in 2004. Another practice cited by critics is "check-kiting", where a climate paper cites a work that is never published.
Muir Russell will appear before the select committee next month, and Anglia's Vice Chancellor Acton has agreed to make a further appearance.
The composition of the Science Select Committee can hardly be described as skeptical. Its concern rather seems to be that of the reputation of British academia. A university - ultimately funded largely by the public - has had serious allegations levelled against it, while its own enquiries have failed accept that structural reform of scientific may be needed. ®