Dell readies flip-screen tablet-cum-netbook
Inspiron Duo demo'd
---
IDF Dell has demo'd a novel convertible tablet that does away with the usual tilt'n'pivot mount.
Instead, it's based around a 10in screen that's mounted within a netbook clamshell chassis but which can rotate about a central horizontal axis, within the bezel, to face in or out.
The catch is it makes for a chunky tablet, but it does give users the benefit of a physical keyboard and a trackpad, plus the usual array of portage. And it's thinner than convertibles based on the customary tilt and pivot mount.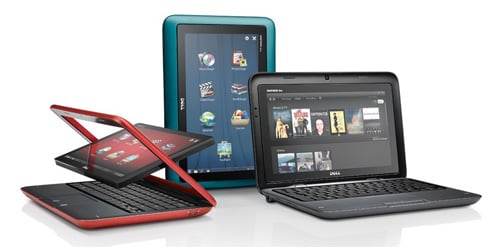 Dell didn't talk specs, but demo guy did say the convertible will use Windows 7 Premium. Hopefully, that means a higher resolution screen than the usual netbook 1024 x 768.
It's likely the convertible will use the recently released dual-core Atom N550.
Set to go on sale "later this year", the tablet will be called the Inspiron Duo. ®