Yahoo! economist rebuilds ad empire with 'Magic Formula'
Why Carol Bartz wears math when it's chilly
The magic is that there is no magic
"What is really 'magic' about this is that it gave us a backdoor way to price three trillion different pieces of advertiser demand," McAfee says. The trick is that it doesn't actually price all three trillion categories. The formula reduces the calculation down to a pair of parameters per campaign — that's a total of 400 parameters for those 200 large advertisers — and it prices the ads with real-time bidding, mimicking an ad-exchange model. Yahoo!, in other words, bids on behalf of the advertisers.
"The pricing is the outcome of the bidding, so we don't have to price everything in advance. We can price them after the fact. We can price them in the process of executing the campaign," McAfee explains. "What that does is take a problem that was — in principle — three trillion dimensions and reduces it to 400 dimensions."
The setup also gives Yahoo! fine-grain control over each advertiser's campaign. "It gives us a dial to favor an advertiser," he continues. "If one of our advertisers is not getting enough impressions, we turn the dial and increase their bids, to make sure we fulfill the contract."
Before Yahoo! began rolling out the system this past January, ad placement was at the opposite end of the spectrum. "We would basically flip a coin as to what ad you saw," he says. "It wasn't completely random — we let you, say, target an ad to someone in San Jose, and if a San Jose campaign was behind, we would push it — but it was pretty much random."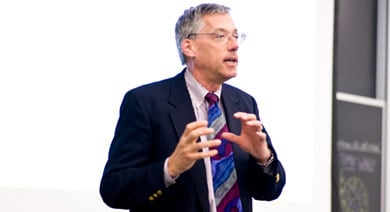 Preston McAfee
The new setup — part of Yahoo!'s display ad serving system (known internally as "IMS2") — has now been deployed across North America, and it's designed to eventually integrate with the company's Right Media exchange, where smaller advertisers — those without guaranteed contracts — bid for ad placements across a sweeping network of websites, including Yahoo!'s. Currently, it doesn't fully integrate with Right Media, but it does take pricing input from the exchange. If a guaranteed advertiser wants to advertise to men over the age of 65, for instance, the system will ask how much men over 65 are selling for on the exchange.
But the point of this new system — and this will be the case even when it integrates with Right Media — is to give the contract advertisers what they want before its snapped up by clever bidders on the exchange. "It's a way of protecting our most valuable advertisers," McAfee says. "We don't want to just expose those guys to our ad exchange. If we expose the inventory to the exchange, we allow somebody else to buy the really good stuff, and that's a threat to our best advertisers."
The exchange model is a wonderfully efficient means of distributing ad inventory, but it may work against the big guns. "If some smart guy comes in and says I'm going to buy all of the high-income areas of the country — which is easy enough to do based on a census table look-up — a big advertiser may end up with only the poor neighborhoods. And they're going to be really unhappy."
IMS2 gives the contact advertisers what they want and then exposes the leftovers on the exchange. But at the same time, it delivers exchange-like efficiency.
It's no wonder Bartz wears that math on her chest. ®