The Android phones are tumbling out thick and fast from HTC.
The Taiwanese handset powerhouse is launching two phones today, the multimedia-tastic HTC Desire HD and a phone for Suits, the HTC Desire Z. Also it is touting software enhancements, branded under HTC Sense, which will help people monkey around with the pics and vids with a "variety of fun camera effects" on their phones.
HTC Sense also includes location-based maps, which are delivered "without download delays or incurring mobile roaming charges; and dedicated e-reader, featuring annotation, search and translation capabilities, and a new ebook store.
HTC is unwrapping a new website called HTCSense.com to manage their phone, maybe by PC. The site may be live - but it tells that authentication is needed to access it.
Now to the phones - and no, we don't have prices yet.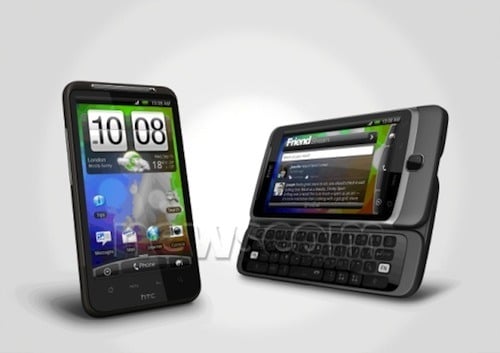 Desire comes in many forms
HTC Desire HD is multimedia-tastic - while the Desire Z is a business beast with a full qwerty keyboard.
The HD has an aluminium "unibody", 4.3in LCD display, Dolby Mobile SRS virtual sound, a dual flash 8mp camera and 720p HD video. It is the first phone to use the new 1GHz Qualcomm 8255 Snapdragon processor, HTC says.
The Desire Z has a "pop hinge" which opens up to show the QWERTY keyboard, supplied with sundry shortcuts and two customisable keys to access common functions without opening menus. It comes with a 720p HD video recording and a 5mp camera.
The phones start shipping in October, although North Americans will have to wait a little long for the HTC Desire Z to come their way. Both handsets will be "broadly available" through operators and retailers.
Similar topics