This article is more than 1 year old
Microsoft delivers Google Chrome IE9 beta
Overdue features, at last
First look Microsoft is offering Internet Explorer 9 beta for download. Although this follows four earlier platform previews, this is the first time the new IE user interface has been shown to the public.
Like Google Chrome, IE9 combines the address and search boxes into a single "OneBox". It also integrates with the Windows 7 taskbar, enabling website shortcuts to be pinned in the same way as applications, and supporting jumplists and custom preview windows.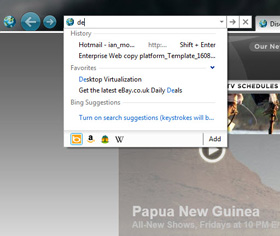 OneBox: your combined address and search box
The new features are based partly on research showing that users make little use of browser features. "Fewer than one third have opened Favourites, fewer than a quarter have pressed the home button," says product manager Ian Moulster. "Windows features are used more. Sixty two per cent have pinned an app to the taskbar, 90 per cent have launched an application from the taskbar."
IE9 therefore presents a minimal user interface in the browser chrome, but adds integration with Windows, especially Windows 7. IE9 also runs on Windows Vista, but not on Windows XP. Users can drag tabs to the taskbar to pin them, and web sites can author jumplist pop-up menus and custom preview windows. Blurring the boundaries between launching an application and launching a website is deliberate, bringing web applications a little closer to desktop applications.
Less browser chrome, a single box for URLs and search, shortcuts that open web applications: three ideas that seem to echo those from Google's competing browser. Does IE9 offer anything new?
The parallels are unmistakeable, but features like jumplists are Windows-specific, and there are significant differences in implementation. For example, the IE9 search bar does not send every letter typed to a search engine by default, and IE9 windows opened from the taskbar still have access to new tabs, whereas in Chrome they are disabled.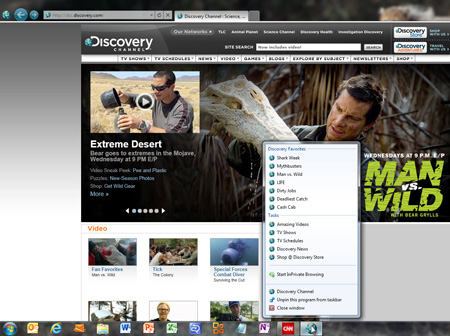 Windows-specific Jumplists gather recently viewed web sites
Another new feature in IE9 is a download manager. This is long overdue. IE9's download manager includes virus checking, as well as a complex screening algorithm that is meant to warn users of unsafe downloads.
Just like in Windows itself, many performance issues in IE are caused by add-ons, especially when multiple add-ons or toolbars are installed. A new feature measures how long add-ons take to initialise and warns the user if it seems excessive - a clever way of shifting the blame and helping users to tune their browsers.
The new IE9 user interface has some welcome though not ground-breaking features, but what counts for more is the hardware acceleration and fast JavaScript engine already seen in the platform preview. Clearly Microsoft is serious about getting back into the browser race. ®