The Ringtone tolls for Nokia Brother Number Two
Farewell, Anssi – and farewell S60
---
Nokia World As Nokia World began yesterday, speculation buzzed about the identity of the two opening keynote speakers. The line-up had been settled months ago. First on the bill was CEO Olli-Pekka Kallasvuo, but he was defenestrated on Friday. And yesterday, the second keynote speaker on the bill, Anssi Vanjoki, announced that he'd be following the CEO out of the door, just a little more slowly. I was about to volunteer my services – make a few off-colour jokes, ask if anybody had parked their Mondeo with their lights on, and maybe even do some juggling, if needed. In the end, it wasn't necessary.
Which is a relief, since I can't juggle.
Niklaus Savander stood in for OPK, while Vanjoki performed as billed. But it still made for quite an unusual atmosphere.
Vanjoki went out with the aggression and bombast turned up to 11. "This phone is biiig. Biiiiiiig" he told us several times, and "Nokia is back!" Which is most un-Finnish. What was he trying to tell us? I suspect both speakers may have been primed by Gary Moon, one of last year's guest keynotes, a former Khmer Rouge prisoner-of-war, turned demotivational speaker, who told an anecdote about crushing the testicles of a water buffalo. By contrast, I've always liked Nokia people for their quiet rationality, unflappability, and understatement. Over several years, I got enough aggression and bombast in Silicon Valley – and not just from dentists, but quite often from no-hope companies too.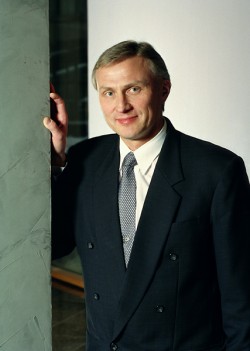 "This is the door, then?"
Yep. Bye, Anssi.
Speaking of the CPK, you may recall that the party's leader Saloth Sar liked to be described as "Brother Number One" – it's the title of a very good biography of the leader. (If you're as fascinated with bureaucracies as I am, you need to study weird political cults like this, as well as the more obvious bureaucracies, such as er... Anyway, the author of this particular biography is David Chandler.)
So Vanjoki bid farewell, as a sort of Brother Number Two. Most are sad to see Vanjoki go – he's been Brother Number Two for as long as anyone can remember at Nokia, and is a popular character. It was Vanjoki who back in 1991 unearthed Grans Vals as promising material for a Nokia Ringtone – a very Finnish touch I thought, and who with Savander chose the irritating segment of music now heard by 1.3 billion people every day.
Quite a few wondered what kind of Nokia CEO Vanjoki would have made. At least he has the success of the N95s under his belt, and was responsible for a lot of the factors that take years to turn into a success, such as nurturing Symbian slowly along, and boosting the multimedia unit.
But he was also around when the smartphone operation wobbled – and the success of one phone (two, really, if you count the N95-8GB) can't disguise the fact that most of the rest of Nokia's smartphone portfolio was utterly forgettable, the UI had stagnated for years, and in-fighting between camps was rife. Some of this wasn't just a Nokia problem – all the smartphones of the mid to late noughties were horribly buggy; Sony Ericsson's failures with its first Symbian v9 phones drove users batty, and began the freefall. So the whole market was ready for the sort of focussed proposition that Apple came up with in the iPhone. But Vanjoki seemed to people both inside and outside Nokia as more of a risk-taker than anyone else in the Old Boys Network. What's indisputable is that when the going got tough, his executive peers made themselves quite invisible, while Vanjoki has been taking it on the chin.
(Although we hear that the engimatic Tero Ojanpero did helicopter in to London recently from his penthouse lair, to witness the end of his bizarre Be-Swampy-The-Mole-For-A-Day interactive-techno-theatre event, written by Tim Kring, performed by a cast of thousands, and witnessed by an audience of a couple of dozen Nokia bloggers and baffled tourists.)
Accentuate the positive
Both speakers were a little petty, I thought. Savander began by playing a clip of Apple's Scott Forstall describing the iPhone 4 as "engaging and personal and all about connecting". A little too smugly, he reminded of Nokia's corporate mission statement for the past twenty years. But that begged the question, does he think no other company is allowed to "Connect People" apart from Nokia? Does he want a royalty for the allusion?
"We're not going to apologise for the fact we're not Apple. We're Nokia people. We're unique," said Savander. Yet surely part of the uniqueness of the brand is its generosity, and not taking affront at petty slights, real or imagined. Whenever I hear executives of huge multinational companies getting peevish like this, two thoughts spring to mind. The first is, Bloody Hell, you've been pwn3d. And the second is, haven't you got anything better to do? Like run a company, for example?