Apple iPod Nano 6G
Finger tapping good?
Review Apple can't seem to make up its mind about the iPod Nano. The new model that Steve Jobs unveiled recently is the 6th generation version of the Nano, and it seems as though each new generation has undergone a fairly major redesign. In fact, I've seen something similar before in the 3rd generation 'phat' Nano, which also had a compact, rectangular lozenge design – and, apparently, was one of the less successful incarnations of this series.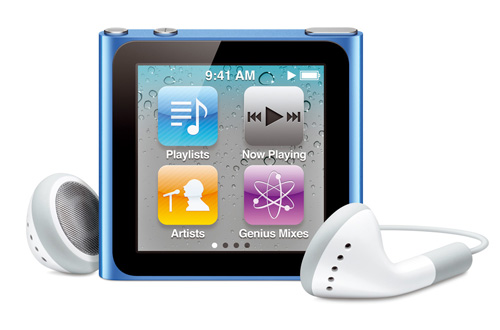 Round six: Apple's iPod Nano
However, this new model has an ace up its sleeve in the form of the 'multi-touch', screen that replaces the Nano's traditional scroll wheel. The new Nano measures just 1.48 x 1.6in, and the touch-sensitive display takes up almost the entire front panel. There's a chunky black border around the edge of the screen, but the visible screen area is 1.54in diagonally, as claimed on Apple's spec sheets.
The screen is square, with a 240 x 240 resolution that produces an attractively sharp and colourful image. As you might expect, the interface is similar to that of the iPhone and iPod Touch, with a series of icons that you tap to in order to browse by album, song or artist, or to activate features such as the built-in FM radio.
The size of the screen means that there's only room for four icons on screen at a time, so the various icons are arranged on four successive screens that you can swipe through with a quick flick of your finger.

Musical palette
Like the iPhone/iPod Touch, the Nano allows you to customize the layout of the icons by entering 'jiggle mode' – which is just as well, as the main music-related features are oddly separated and placed on the first and third screens by default. However, you can't download and instal any of the third-party iOS apps that run on the iPhone or iPod Touch.