Apple iPod Nano 6G
Finger tapping good?
Coverflow No Show
I thought that the size of the screen might make the touch-sensitive control system a bit fiddly, but it's just about the right size for simple actions, such as swiping with your fingers and scrolling down through lists of albums or songs. The only action that seemed a bit clumsy was using two fingers to rotate the screen image, but that's probably not something you'll be doing all that often. People with chunky fingers might find it a bit small, but nimble-fingered young 'uns will love it.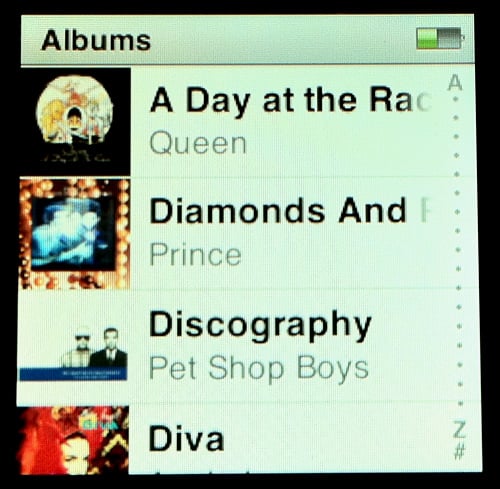 Alas, there's no swiping Coverflow-style through album art
My only complaint about the interface is that there's no graphical 'coverflow' mode that would allow you to flick through your album artwork with your finger, as you can on the iPhone and iPod Touch. All you get is a more conventional vertical scrolling list with small thumbnail previews of album artwork.
The volume is controlled not by the touchscreen, but by two little buttons on the top edge of the device. That allows you to quickly adjust the ouput without having to look at the screen. It makes sense, as the clip on the back means that you'll probably have it attached to your clothing most of the time, rather than sitting in your pocket.
The trade-off with the smaller design and touchscreen controls is that the Nano loses the video recording feature that was introduced in the previous model. That never really set the world alight, though, so we can't imagine that many people will miss it.
Joined at the hip
I was, however, shocked to discover that the new Nano can't play video either. Obviously the little square screen isn't suitable for watching wide-screen films or TV programmes, but I've some music videos that I've bought from the iTunes Store that I would have liked to watch on the Nano.