Boeing has announced it's inked a deal with Space Adventures to provide its Crew Space Transportation-100 (CST-100) capsule for low Earth orbit jaunts for those with deep pockets and lofty travel ambitions.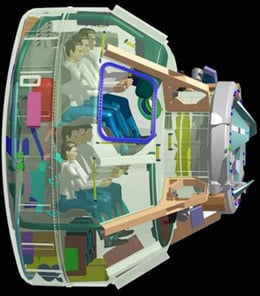 The aerospace giant unveiled the CST-100 at Farnborough back in July, when it trumpeted a similar deal with inflatable space habitat outfit Bigelow.
Space Adventures is the only company currently offering commercial out-of-this-world experiences, and has successfully dispatched seven paying customers to the International Space Station. It will sell passenger seats aboard the CST-100 to "private individuals, companies, non-governmental organizations, and US federal agencies other than NASA".
Space Adventure's chairman Eric Anderson enthused: "We are excited about the potential to offer flights on Boeing's spacecraft. With our customer experience and Boeing's heritage in human spaceflight, our goal is not only to benefit the individuals who fly to space, but also to help make the resources of space available to the commercial sector by bringing the value from space back to Earth."
The CST-100 could, funding permitting, make its first test flight in 2014 before going operational in 2015. It's a seven-astronaut reusable vehicle designed to ride on "multiple launch vehicles", then parachute back to Earth a la Apollo capsule, although it will come gently to rest on terra firma with the assistance of airbags, rather than in the sea.
Boeing and Space Adventures "have not yet set a price per seat for spaceflight participants, but will do so when full-scale development is under way". ®