Review For show-offs and general posers outdoor enthusiasts everywhere, GoPro devices tap neatly into all sorts of extreme sports where cameras have previously been off-limits. Indeed, the Hero range can be stuck, worn, twisted and clipped in numerous tricky places.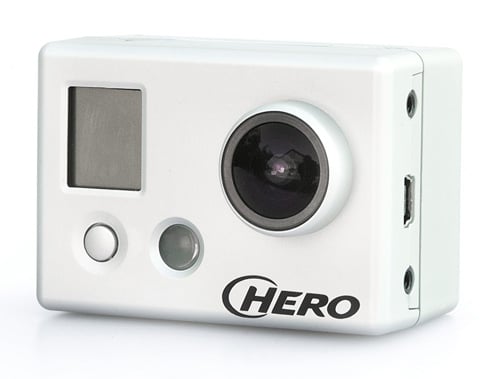 GoPro's HD Hero: one camera, several guises
The latest incarnation, the HD Hero, weighs in at 167g and has 1080p video recording. The makers claim a surprising 2.5hr battery life for recording with this dinky device's rechargeable cell. It charges from USB but can also be juiced-up from an optional mains PSU. For playback, the HD Hero even has interfacing to show video using the supplied cables for component (HD) and SD (composite) gear.
The three distinct camera options – Motorsport, Surf and Helmet – each contain different stick-on clips and camera-mounting straps. Handily, GoPro seems committed to providing attachments for various niche sports, from chest mounts to roll cages, with more accessories due as the range develops.
So on a glorious afternoon at one of Cornwall's best-loved beaches, I turn up with the necessary camera mount pre-attached to a surfboard, yet feeling rather uncool about being the guy all ready to film (no-one but himself) surfing.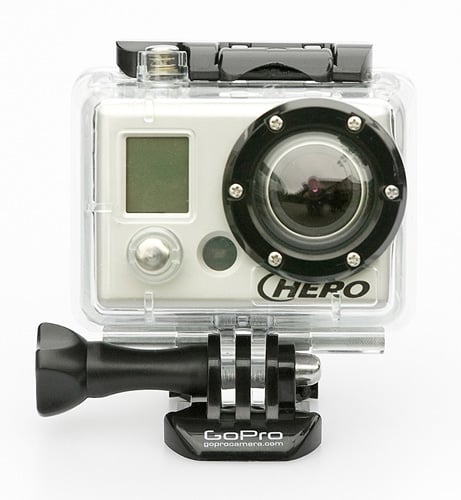 The waterproof casing is good for 60 metres
Prepping the camera felt a tad fiddly given the elements of sand and surf-wax ever present to smear, scratch and generally ruin. These initial fears were unfounded though. Have the camera fully charged and then housed (waterproof to 60 metres) you'll find it can be chucked around quite freely.