Surprise Automotive X Prize winners announced
Internal combustion shocker
Batteries and sex
MPGe was a more important consideration when judging the efficiency of the battery-powered winners of the two-seater Automotive X Prizes, Alternative Side-by-Side Class and Alternative Tandem Class, each of which bagged $2.5m for their efforts.
The side-by-side winner was the Wave II from Li-ion Motors of Mooresville, North Carolina. As the company's name might have tipped you to, the Wave II is powered by lithium-ion batteries, which brought the relatively small vehicle's curb weight up to a hefty 2,176 pounds (987kg) — although, considering the weight of LiIon batteries, squeaking in at just over a ton is not all that shabby.
The Wave II managed an MPGe of 187, accelerated from zero to 60 miles per hour in 14.7 seconds, and attained a range of over 100 miles in what the X Prize folks described as "a real-world driving cycle."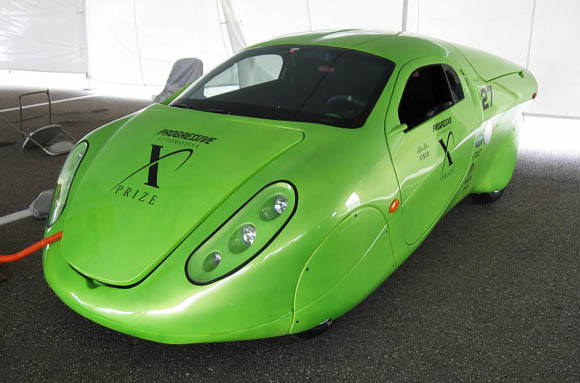 The Wave II may look a wee bit amphibian, but it'll carry two in efficient comfort
The winner of the tandem class, the E-Tracer from the Swiss motorcycle manufacturer, Peraves, is — to our eyes, at least — the sexiest of the winning trio. Essentially a sleek, stretched-out electric motorcycle, the E-Tracer achieved a contest-best 205.3 MPGe.
Peraves plans to offer the E-Tracer for sale beginning early next year — but at a price of $108,000, it's hardly an impulse buy. That said, both its looks and its performance are sure to turn heads: the company claims zero to 100km/h in less than four seconds with a top speed of 240km/h — for Reg readers more comfortable with miles, think zero-to-62 and 149mph.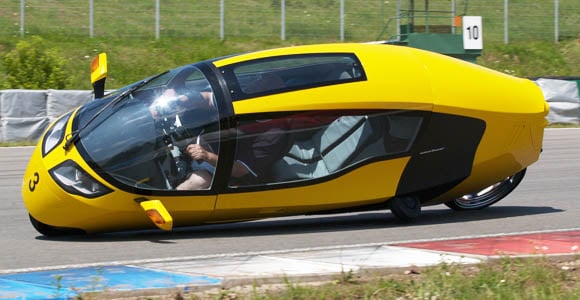 The E-Tracer — perfect for zipping through the Swiss Alps
With its batteries fully juiced, the 1,436-pound (651kg) E-Tracer's range is rated at 300km (186 miles). And if you didn't blink when we mentioned that $108,000 price tag, know that another, more-powerful "ultra sport" version is also scheduled for production, which we can only assume will be pricier.
These three winners, by the way, faced a horde of competitors: a total of 136 vehicles were entered by 111 teams from 11 different countries. The range of entries was impressive — check out, for example, the sleek Aptera 2e, Lilliputian foam-covered Spira4u, bug-like OptaMotive, just-plain-weird K-Way Motus, or painfully plain Tango — Popular Mechanics has photos of them all. ®
Bootnote
Although the Very Light Car is, indeed very light — as Edison2's website explains in Steinian prose, "The Very Light Car is light because it is light" — no data has yet been provided about its MPGe when loaded with a quartet of Mississippians