Dell nestles baby Opterons into PowerEdge racks
A shotgun wedding in Texas?
---
Server and PC maker Dell had to be dragged kicking and screaming into employing AMD's Opteron processors. But ironically, it looks like Dell could just turn out to be the most enthusiastic supporter of Opteron processors in servers today.
Oracle has killed off its Sun Fire Opteron product line (at least for the moment), IBM has put out one System x box using the twelve-core "Magny-Cours" Opteron 6100s, and Hewlett-Packard has put three machines out using the Opteron 6100s. So far, none of the volume players has put a machine using the low-priced, six-core "Lisbon" Opteron 4100 processors into volume servers. Last week, Dell kicked out a special-bid PowerEdge C cloudy infrastructure box, called the C6105, that crams four half-width Opteron 4100 servers into a 2U rack chassis.
Beginning October 11, two general purpose, volume PowerEdge servers, the R415 and the R515, will be added to the mix, giving Dell six Opteron servers overall, including the Opteron 6100-based R715 and R815 servers announced in March but not detailed until June.
The PowerEdge R415 is a two-socket Opteron 4100 machine that uses AMD's SR5670 chipset and SP5100 I/O hub. The box is pretty bare-bones, and is clearly aimed at cheapskates — but there's nothing wrong with that, and in fact, that's who the Opteron 4100 was made for. The R415's motherboard has eight DDR3 memory slots, and supports DDR3 memory sticks in 1GB, 2GB, 4GB, and 8GB capacities for a maximum of 64GB. Dell says that 16GB memory sticks will be supported soon, doubling-up memory to a maximum of 128 GB.
The mobo has two peripheral slots — one PCI-Express x16 slot (perfect for GPUs for those server buyers building HPC clusters) and one proprietary slot for a SAS 6/IP or PERC S300 disk controller. The 1U rack chassis has room for four disk drives, and supports SAS and SATA drives in a wide variety of capacities in both 10K and 15K RPM speeds. The box comes with a 480-watt power supply, and there is room to slide in a second 500-watt supply. If you want to add Dell's Lifecycle Controller service processor, you can, but it's not installed by default as in other PowerEdge machines. If you are not catching the theme here, this PowerEdge R415 box is for skinflints.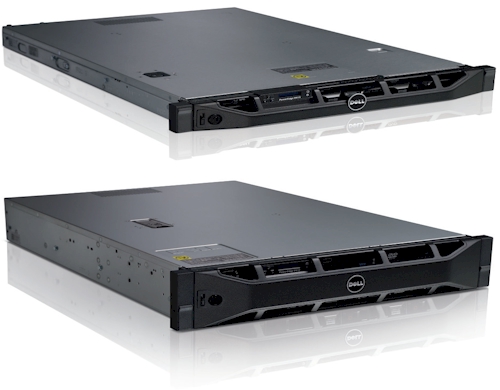 The Dell PowerEdge R415 and R515 Opteron 4100 servers.
The PowerEdge R515 is essentially the same two-socket Opteron 4100 box, but it comes in a 2U chassis and has a riser card plunked into the motherboard that gives users three PCIe slots (one x8 and two x4) plus a dedicated x4 slot that is used for the internal disk controller. The R515 comes in two flavors: one with a chassis that holds eight 2.5-inch or 3.5-inch drives, or another that can hold a dozen hot-plug drives plus two 2.5-inch internal drives. The R515 comes with redundant 750-watt power supplies.
Both the PowerEdge R415 and R515 support Microsoft's Windows Server 2008 (the original as well as the R2 release) and the HPC Server 2008 variant for supercomputing (which is just about ready to get revved to R2 itself). Red Hat Enterprise Linux 5 and Novell SUSE Linux Enterprise Server 10 and 11 are supported on the machines, as are the Citrix Systems XenServer and VMware ESX 4.1 hypervisors. The entry price of the R415 is $1,200; for the R515, you're talking $1,600. The exact configuration details were not available since the boxes are not yet shipping. ®