This article is more than 1 year old
Pope makes central London no-go zone for BT engineers
Net access looking flaky? Start praying
Based in Central London? Broadband looking a little flaky this afternoon?
You better look to heaven for help, as Openreach won't be doing any callouts in the centre of Capital for the foreseeable future due to Pope-related congestion.
That apparently is the gospel according to telecoms provider 2Circles, which told customers that Openreach had said it would not be taking "any escalations for faults and orders in the London area next week due to the visit of the Pope".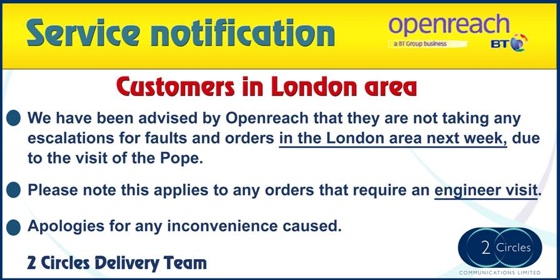 This apparently applies to orders requiring an engineer visit. We assume this is because of the inevitable road closures and subsequent congestion as the walking pace Popemobile prowls the streets of the capital as radical atheists and hard core Opus Dei members try to drown each out, while the Swiss Guards try to stop Peter Tatchell from arresting the pontiff.
Alternatively, Openreach could be taking heed of His Holiness' injunctions against the tide of filth available over the internet, and is looking to make Westminster a porn-free zone, albeit for just a few days.
Sadly, if you thought you get round it by engaging a papally approved ISP, you're out of luck, as Catholic Internet Services only operates in the US.
We asked Openreach and 2Circles to confirm the bulletin, but so far they haven't got back for us. ®