Oracle pledges MySQL community love
The enterprise. Have you heard of it?
---
OpenWorld Oracle has promised to continue developing the community edition of MySQL. But you'd better like the architecture and customers that Oracle is targeting.
On Sunday, the database giant's chief architect, Edward Screven, committed Oracle to making not only the enterprise edition of MySQL better but also the community version licensed under the GPL.
Backing Screven, Oracle announced the general availability of MySQL 5.5 with a raft of performance improvements on Linux as well as Window, saying that Windows support had been lagging. Final product is due before the end of the year.
It's performance tuning that's making it into the GPL'd version of MySQL.
Screven told Oracle OpenWorld's MySQL: "Some folks thought when we'd acquire Sun [Microsystems], we'd deprecate MySQL, but it's quite the opposite... We are focused on making MySQL better.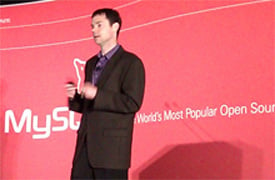 Screven: we'll enhance community edition MySQL
"We are going to enhance the community edition... we are not only making the enterprise version better, we are making the GPL edition better as well."
The statement follows the painful death Oracle inflicted on the OpenSolaris project, which in the eyes of many proves the giant's lack of interest in working with open source projects that undermine the company's ability to make money.
Oracle will now only deliver updates to the OpenSolaris code after the release of commercial versions of enterprise Solaris.
Though Oracle will continue to maintain MySQL, the database is going to follow Oracle's script. From now on, you get one transaction storage engine by default with MySQL - InnoDB, handily bought by Oracle in 2005.
InnoDB is actually a good move, because it brings full ACID compliance to the database for reliability and integrity of transactions, performance, and data. As vice president of product development Thomas Ulin told MySQL on Sunday - this is a "proper database out of the box."
Oracle's InnoDB and MySQL teams have been working together to deliver a claimed 10 times improvement in recovery, 360 per cent read/write performance over MySQL 5.1 on Linux, and a 1,500 per cent boost for MySQL 5.6 on Windows Server 2008, according to SysBench benchmarks.
By doubling down on InnoDB, though, Oracle will not work to ensure such perform gains make it into the the community code for MySQL and other engines - such as Falcon, started by MySQL after Oracle bought InnoDB. Falcon was started to provide an independent alternative to InnoDB.
At the time, MySQL executives told The Reg they were working to encourage other storage engines in order to provide choice for developers and ensure MySQL didn't become hostage to Oracle as InnoDB had been MySQL's default storage engine.
Other options in the field included Kickfire, PBXT, and Brighthouse.
Screven, meanwhile, used Sunday's event to re-emphasize the mpending integration between the Enterprise Edition of MySQL and Oracle's other systems management and information products. MySQL Enterprise Edition will come with Oracle's Enterprise Manager, Audit Vault, and Secure Backup products in calendar 2011 - something that's been on Oracle's roadmap since the company finally managed to grab Sun earlier this year. Enterprise Edition will also come with Oracle's support.
None of these features will make it into the GPL code.
For Oracle, it's all about building a complete stack of its software - and hardware - so that its customers need only buy from Oracle.
"Take a step back and thank about the open source pieces Oracle has," Screven said. "MySQL, virtual machine, Linux Apache, Glassfish - we have a very broad stack of open source technologies that mirrors our strategy of providing open, integrated solutions."
Damning MySQL with faint praise, Screven said of the database: "We are going to keep making MySQL a better and better product for the domain to which it applies," he said, quickly adding. "Not that it's not suitable now."
That domain? Not the web, where MySQL has been huge, but the enterprise, where Oracle's customers are already using MySQL in addition to Oracle's elephantine database.
"With Oracle, we are going to invest more in MySQL than Sun could or MySQL as an independent company could and fit it within a large enterprise infrastructure to help customers take advantage of it in a way that they could not before," Screven said. ®