Oracle has announced the Sparc T3 processor and its related Sparc T3 systems at the OpenWorld extravaganza in San Francisco, giving Solaris shops who had run out of headroom on the existing Sparc T2 and T2+ machines a little breathing room – and giving Oracle a chance to chase some entry and midrange Unix server sales against rivals IBM and Hewlett-Packard.
The Sparc T3 chip, developed under the code-name "Rainbow Falls," is first chip that Oracle co-founder and CEO Larry Ellison could claim as his own. And as you can see from the chip packaging below, it does not bear the Sun logo, but the Oracle logo.
The Sparc T3 is a 16-core kicker to the current eight-core Sparc T2+. The initial versions of the Sparc T3 chip come with either 8 or 16 cores activated and run at one clock speed, 1.65 GHz, according to the spec sheet. It is possible that Oracle is selling geared-down chips running at 1.2 GHz or 1.4 GHz, as Sun did with the prior generations of Sparc T series chips.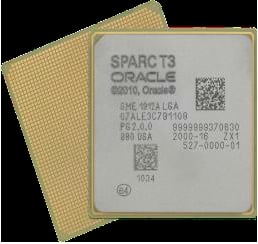 Oracle's Sparc T3 chip: Larry Inside
The Sparc T3 chips use a 40 nanometer process and are fabbed by Sun's designated wafer baker for the T3 chips, Taiwan Semiconductor Manufacturing Corp. The chip has a die size of 371mm and like its predecessor offers glueless scalability (meaning it does not require an additional chipset to do symmetric multiprocessing) from one to either two or four sockets. The Sparc T3 chip has eight threads per core and one nine-stage floating point unit per core. The Sparc T3 core has 8 KB of L1 data cache and 16 KB of L1 instruction cache and 6 MB of L2 cache shared by the cores, carved into 16 banks of 384 KB each. The on-chip memory controller supports DDR3 main memory, and Oracle is currently supporting 1.07 GHz sticks in the Sparc T3 systems.
The Sparc T3 chip has two 10 Gigabit Ethernet network interfaces and two PCI-Express 2.0 x8 interfaces etched onto it. it also sports a cryptographic co-processor on each core than can do an alphabet soup of encryption and decryption. It is truly a system on a chip. Depending on the workload and how many cores and threads are activated, the Sparc T3 chip dissipates between 75 and 139 watts. This is roughly the same range as AMD's twelve-core Opteron 6100 processors.
Oracle is launching four different Rainbow Falls servers: three rack servers and one blade server. The naming conventions for the box are absolutely simple and useful. The machines are called Sparc T3s, just like the processors, and have an additional numerical designation to tell you how many sockets are in each box. If the machine using the Sparc T3 chip is in a blade, tack a B onto it.
Thus, the Sparc T3-1 server is a 2U rack-based server with a single socket. (The spec sheet says the T3 chips are running at 1.6 GHz, which could be a slight shaving off the clock speed or a typo). With that one processor, Oracle can cram 128 threads into a single machine. The Sparc T3-1 has sixteen memory slots, and Oracle is currently supporting 2 GB, 4 GB, and 8 GB sticks for a maximum of 128 GB. (The minimum server configuration is four 2 GB sticks).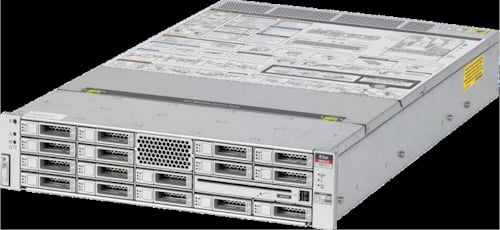 The Oracle Sparc T3-1 rack server
The server comes with four Gigabit Ethernet ports on the system board, and with an optional mezzanine card, you can plug into the 10 Gigabit Ethernet ports on the Sparc T3 chip itself. The server has four x8 PCI-Express slots plus the two x8 and two 10 GE links on the chip. Depending on what backplane you select, you can have eight or sixteen 300 GB. 2.5-inch SAS disk drives (spinning at 10K RPM) and a DVD drive. That's it for disks. Sun's Flash Accelerator F20 PCI-based flash memory cards are also supported in the system. The Sparc T3-1 server has two hot-swappable 1,200 watt power supplies.
Similar topics