This article is more than 1 year old
PARC turns 40: mice, money, and the new interwebs
A place whose time has come. Again
Mention "Xerox" and "PARC," and you'll likely be greeted by a rolling of the eyes or an off-hand comment like: "Didn't they invent the mouse and let Microsoft make all the money?" That happened to me more than once when I mentioned I was heading to the Palo Alto Research Center to interview a few folks for the iconic institution's 40th anniversary, which will be celebrated later this week.
PARC is an iconic and hallowed place, as much an essential part of the fabric of computing's history as the Alan Turing story or Hewlett-Packard's legendary garage.
A bunker-like building perched on a sun-drenched hillside in California's Silicon Valley, PARC was formed by Xerox to create the office of the future, and it assembled some of the greatest minds of that time in a single location. In just four years, those minds managed to conceive and create the modern PC – and the modern network.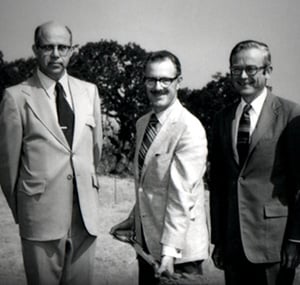 George Pake, center, breaks ground on PARC in 1970,
(photo credit: Xerox PARC)
PARC researchers devised the world's first WYSIWYG editor, the GUI, bitmapped display object-oriented programming methodology, and, yes, the first commercial mouse, all of which were quickly rolled into the Alto workstation – a recognizable modern PC. PARC's boffins also gave us Ethernet and laser printers.
On the seventh day, they rested.
But PARC is also famous because the products and profits associated with these breakthroughs arrived through other companies. Steve Jobs and Apple are credited with introducing the first commercial GUI workstations: the Lisa and the Mac. Bill Gates and Microsoft gave us Windows on x86 PCs. 3Com successfully exploited Ethernet. And profits from laser printers flowed to Cannon, Lexmark, and Hewlett-Packard.
Worse for PARC: 3Com, Adobe, and Digital Equipment Corp's Systems Research Center were formed by former PARC staffers who'd left out of frustration with PARC's direction and unwillingness to realize their inventions. Meanwhile, Apple and Microsoft hired away other brains. Alan Kay, who'd built the world's first object-oriented programming language, SmallTalk, went to Apple, while a fresh-faced Charles Simonyi, who'd worked on PARC's WYSIWYG interface, left to join Microsoft, where he gave us Word and Excel and helped Gates become one of the world's richest men.
Such is the epic story of what might, and should, have been. It lead to the publication of an infamous book: Fumbling the Future: How Xerox Invented, then Ignored, the First Personal Computer.
It's also an object lesson in how not to run a business.
"What's really funny, is when I was getting my MBA, we did a Harvard business case study that asked the same question," Tamara St. Claire, vice president of global business development, told The Reg when asked how PARC can avoid repeating the mistakes of the past.
Appointed a year ago, St. Clarie is the first outsider to lead biz dev, and her remit has been massively expanded from that of her predecessor, John Knights. Chief executive Mark Bernstein has urged her to bring in the dollars. A PHD chemist, St. Claire was business development director for healthcare diagnostics giant Roche, where she expanded its business through a mix of partnerships, licensing, and acquisitions. She also overhauled Roche's processes to turn research work into products.
"Tamara was new blood," Bernstein told us. "We're thinking more deeply and thinking further out, and being more rigorous about the processes." It was St. Claire's experience at Roche that made Bernstein believe she was right for PARC. He brought her on to centralize business development and codify the processes of taking ideas to market.
New blood in action
Twelve months in and St. Claire's been busy: she's now leading all biz dev, having streamlined a team of 10 people spread around in the operation's different labs. She's applied portfolio management tools to PARC's more than 30 research programs – categorizing projects according to whether they sit in a quadrant of new market, existing technology, existing market, new technology – with each mapped to a particular management style.
New technologies and markets are managed using a venture-capital style of funding and spinout. Existing technologies and markets are managed to maximize short-term profits. Also, St. Claire hired a full-time professional to coordinate and direct PARC's branding, messaging, communications, sales support, and product marketing.
"Mark's goals for me in first year were making sure we had the team ready to fire on all cylinders," a bullish St. Claire said on her busy year. "Right now, we are in a position where we've got the tools and ability to measure, realign, and have sound investment strategies."
"We do an exercise on a regular basis where we take our core technologies and competencies and try to push them into new markets or get a market understanding of what's the next paradigm-shifting technology in that market," St. Claire said.