What starts in the labs, stays in the labs
PARC has also collaborated with others before. In the past, it worked with Sun Microsystems to reduce the power consumption and heat in Sun's SPARC servers. The result is each Sun SPARC server now contains a Claw Connect, a piece of hardware built by PARC and Sun to transfer heat and let the chip cool down. Officially called Solder Free Compliant Flexible Interconnects, Sun's owner Oracle just renewed the Claw Connect license for an undisclosed fee. Oracle was unwilling to discuss Claw Connect.
Contrary to the perception, PARC has not always let its ideas go cheaply. Natural language search engine Powerset cashed out at $100m when Microsoft bought the spin-out for its internet search effort. Microsoft and PARC are still working together.
Two things have changed, though. The first is that the process for building up and spinning out companies has been centralized for consistency. Spencer had to invent the process for finding and spinning out ideas, while St. Claire comes from a business background.
St. Claire used her experience to spend six months of her inaugural year combing through PARC's portfolio to establish the processes. She calculated a way to categorize technologies and markets in buckets and to score them; to match up investment, technologies, and market scores; and to then establish stakeholder buy-in and first project review.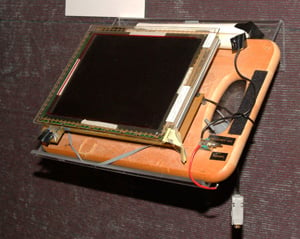 Before the iPad came the PARCPad (photo by Gavin Clarke)
St. Clare also says the management and researchers are behind her plans, which is crucial because PARC has a history of researchers clashing with each other and with the management – battles and stand-offs that ultimately helped sink the whole show as people like Metcalfe, Warnock, and Geschke departed and took their good ideas with them.
The other big change is that PARC is no longer a captive research center serving the goals of a single master: Xerox. PARC became an independent subsidiary through a spinout in 2002. Prior to independence, PARC researchers' work was seen as either disruptive to Xerox's core business or too advanced for Xerox's manufacturing to turn into product.
And that came at a bad time for Xerox, as the Timotei-washed go-create idealism of the 1970s turned into the hard-nosed, greed-is-good decade that was Reagan's 1980s.
PARC was one of four labs Xerox created in the 1960s, 1970s, and 1990s - the others are in New York state, Canada, and France - and it had the broadest charter of all: the office of the future. By the 1980s, Xerox was under pressure from new Japanese competitors, and office of the future had better feature and lots and lots of paper-luvin' copiers and printers to help boost Xerox's bottom line. Forget PCs, networks, and printers that reduce paper by digitizing data.
"Xerox was heading into deep storms," John Seely Brown, director of PARC between 1986 and 2000 and a Xerox chief scientist, told us, reflecting on the situation.
"They wanted to stay in the printer-copier business. They were very protective of their market and the ways to address that market. We were even inventing completely different kinds of printers, but the things we were doing didn't tap the skills that the manufacturing engineering side of Xerox knew about. We suddenly found much greater barriers because we were playing with different capabilities. We were disrupting things," he said.
Xerox was fighting Japan Corp, and PARC had become a PR exercise to make Xerox look like it was still interested in bold new ideas. "They wanted to find a way to reduce the cost and still keep the public relations and market value with some new ideas coming out that fitted into the existing business and let them operate as they wanted," Seely Brown told us.
The PARC vision was turned from the office of the future to the copier printer of the near future, with PARC brains breaking ground on networking and interface technology.
The output included copiers featuring three levels of Ethernet to handle documents and 30 processors with interfaces based on PARC's researchers' work in anthropology. The machines would analyze and re-calibrate themselves to maintain copy quality, while some models would predict when the machine might break down by analyzing the components, and then place a "call" to central office to schedule the visit from a repair man.
In the late 1990s Seely Brown demonstrated a PDA with built-in accelerometers showing the screen scrolling through a rolodex app. PARC also prototyped pads and tablets, such as the PARCPad in 1991 - a screen mounted with 4MB of RAM and with four hours' battery, life mounted on what looks like a kitchen cutting board. Twelve years later, accelerometers have become a standard component in Apple's iPad and the iPhone to let the infernal Jobsian devices know which way they are pointed. The PARCPad? That's mounted on Weiser's wall along with other proto-handheld devices that include a hand-held digital assistant.
PARC also experimented with smart "stuff," building paper clips out of RFID materials so you'd never lose your documents.
So much for "office of the future"
Such ideas stayed in the labs, though, as Xerox was interested in the core business. "The paperless office would have destroyed Xerox. The irony is, pursuing that led to the development of the laser printer that created more paper than ever," Seely Brown remarked.
Xerox eventually spun out PARC to make money and reduce its costs as business got tougher. But spinning out wasn't the end of PARC's problems, because Xerox still wanted to keep control over the ideas and technologies. The original idea was to find others willing to share the ownership and costs through some kind of joint investment. The goal was to become like HRL - Hughes Research Lab - in Malibu, which spun out as an independent company in 1997 and today performs R&D for Boeing and General Motors.