Oracle's new co-president Mark Hurd took the stage at the OpenWorld extravaganza Monday to dutifully help with the product rollouts. He paced the stage, no doubt making the cameraman dizzy as he stomped about, talking about the new Exadata X2-8 data warehousing and online transaction processing clustered appliances as glowingly and as forcefully as he ever talked about products from HP or Teradata — maybe more so, as Hurd gets comfortable wearing his new Oracle shoes.
Hurd has been on the job for only two weeks, so he was not going to be allowed to steal the show from John Fowler, the executive vice president in charge of Oracle's Systems and Storage group. But Hurd was given the job of introducing the upgraded Exadata appliance.
Some housekeeping first. The Exadata V2 appliance based on Sun x64-based servers and Oracle storage and database software, announced almost precisely a year ago, is now called the Exadata X2-2. That cluster was based on the Sun Fire X4170 two-socket Xeon 5500 server with 72GB of memory for processing queries and transactions against the Oracle 11g database; up to eight of these are put into a single rack.
For storage, Oracle and Sun paired up the X4275 server, which has room for a dozen disks and four of the F20 FlashFire PCIe flash memory modules, each with 96GB of flash capacity. The Exadata storage compression and management software for the BI and OLTP workloads is the secret sauce in the Exadata architecture, and this runs on those x64-based storage nodes; with that, a 4TB database can be compressed into main memory on an Exadata X2-2 (as it is now called) and a 15TB database can be compressed onto and run from flash memory. Sun's Switch 36 40Gb/sec InfiniBand switch glues it all together.
The Exadata X2-2 machine is fine for a lot of workloads, but some jobs — even those running on Oracle RAC clustered instances — do better with lots more main memory. So the Exadata X2-8 machine announced by Hurd Monday is based on Intel's Xeon 7500 processors, which have up to eight cores per socket and which can address a lot more main memory.
To make these fatter Oracle 11g/RAC database nodes, Oracle is using its own top-end Sun Fire X4800 server, which was announced back at the end of June and which is as big and as bad as any other eight-socket Xeon 7500 box out there right now.
The database nodes have eight of Intel's top-end X7560 parts, which run at 2.26GHz, and 1TB of memory. The server node is equipped with eight InfiniBand ports and the rack has three of Sun's 36-port InfiniBand switches.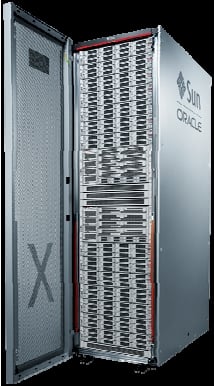 The Oracle Exadata X2-8 OLTP/BI clusterbox
The Exadata X2-8 puts two of these Sun Fire X4800s into the rack and pairs it up with 14 of the storage servers with the special Exadata compression sauce. Oracle is offering 600GB disks that spin at 15K RPM or 2TB disks that spin at 10K RPM for the Exadata X2-8 cluster. In a single rack, there are 168 cores for running that Exadata storage software and 5.3TB of what is now called the Smart Flash cache memory. That's four of the flash modules per storage server, just like in the Exadata X2-2.
Using the skinnier and faster SAS disks, Oracle says that the Exadata X2-8 appliance can deliver up to 25GB/sec of raw disk bandwidth on uncompressed data and 50GB/sec across the flash drives. The disks deliver 50,000 I/O operations per second (IOPs), while the flash delivers 1 million IOPs. The machine has 100TB of raw disk capacity per rack and up to 28TB of uncompressed user data. The rack can load data at a rate of 5TB per hour. Using the fatter disks, the aggregate disk bandwidth drops to 14GB/sec, but the capacity goes up to 336TB and the user data space grows to 100TB.
The Exadata X2-8 appliance can span from one to eight racks without requiring additional InfiniBand switches. The Oracle spec sheets for the clustered appliance (or applianced cluster, however you want to look at it) say the new device requires Oracle 11g Release 2 (11.2.0.2 or higher), and the RAC and Partitioning features of the database. This iteration of the Exadata box requires Oracle Linux 5 Update 5, which is based on Oracle own Unbreakable Enterprise Kernel, announced Sunday. You can't use Red Hat's Enterprise Linux or its kernel. Hurd said that by the end of the year, the Exadata X2-8 would support the Solaris 11 Express development release of Oracle's Unix platform.
Hurd said that the initial shipments of the Exadata X2-8 appliance would begin in the next 35 to 40 days. Oracle was not so keen to brag about pricing this year as last year and did not provide any for the new box.
The one thing that Oracle did not do yet is launch an Exadata T3 appliance based on its own brand-spanking new Sparc T3 processors and servers, which also made their debut Monday.
A year ago, when Oracle dumped HP iron like an old girlfriend after it proposed marriage to Sun, the company could be excused for not having a Sparc-Solaris variant of the Exadata appliances. But it's now a year since the two have been cooperating on engineering, and 17 months since Oracle announced its intent to buy Sun. That's half a server generation in the computer business.
Oracle doesn't just need to offer Solaris 11 as an option on the x64-based systems, but to use the Exadata appliances to prove that Sparc T3s are superior to x64 processors, as the company is constantly saying. A TPC-C clustered benchmark is not the same thing as making Solaris a peer to Linux. ®