Intel slips anti-theft tech into hardware to deter thieves
Vulcan pinch
---
Intel is building anti-theft technology into hardware in a bid to make life harder for laptop thieves.
The chip giant is incorporating anti-theft technology into laptops and network chip sets, and partnering with developers and hardware OEMs to deliver enhanced anti-theft technology. By placing crypto keys in hardware the technology will render a stolen laptop useless even if a thief swaps its hard drive.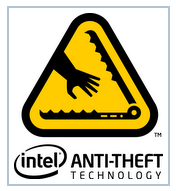 Intel's anti-theft technology allows sys admins to brick a stolen computer via a "poison pill" message and, in turn, re-activate machines as and when a device is found. Machines that fail to log in for a specified period of time also get disabled. The latest generation of the technology, introduced at the Intel Developer forum last week, involves placing a GSM receiver in the hardware so that machines can be disabled without first going online.
Anand Pashupathy, general manager of Intel's anti-theft services business, describes the technology as a "vulcan grip" that suspends the activity of a notebook.
Intel is partnering with Absolute Software to deliver anti-theft technology to market on laptops and notebooks from HP and Lenovo. Lost and stolen laptops create a severe confidential data risk, the answer to which is not provided by anti-theft technology alone. Intel has signed up with PGP and WinMagic (announcement here) to offer full-disk encryption.
The chip giant has developed a logo for its Anti-Theft technology, which it reckons will act as a deterrent to casual thieves. In an exercise, 42 out of 100 laptops and notebooks went walkabout when left unattended in campus and Wi-Fi hotspots, a figure that shrunk to 12 per cent when the Anti-Theft sticker was displayed. Pashupathy compared the "visual deterrent" approach to the red flashing lights on car radios that indicate that the receivers will not work on other vehicles.
Intel is looking to partner with more security software developers and hardware manufacturers to bring the technology to market. ®