A whole lot of flops in the box
Perhaps the most interesting new machine launched today came out of Moscow's T-Platforms, a very clever blade server that crams 16 blade servers into a 7U blade enclosure, with each blade having two Intel Xeon processors and two Tesla X2070 GPU co-processors. (This is the first time I have ever heard of the X2070 GPU, but it appears to be an M2070 with all of its packaging ripped off). The TB2-TL blades have some real engineering. Memory sticks have been tipped on their sides to keep the blades skinny, and the entire blade is covered with a giant heat sink that keeps it from melting. Here's what the blade looks like with the heat sink removed: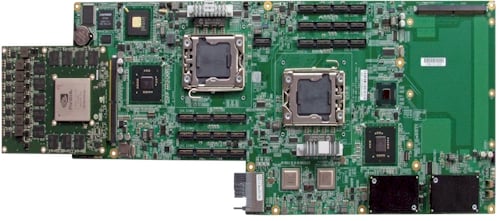 The T-Platforms T-Blade 2 GPU blade server
As you can see, floating off to the right is a naked Tesla GPU co-processor. Presumably there is one on the other side of the card to give you the two you need. T-Platforms says the X2070 GPU is rated at 515 gigaflops in double precision, which matches the M2070 fanless GPU specs. The compute blade holds two of Intel's low-voltage L5630 processors, which are four-core processors that run at 2.13 GHz and which have a 40 watt thermal design profile. The blade supports up to 24 GB of main memory and has one Gigabit Ethernet port and two Mellanox 40 Gb/sec InfiniBand ports. Here's what it looks like in the back of the T-Blade 2 chassis when you slide 16 of these bad boys in: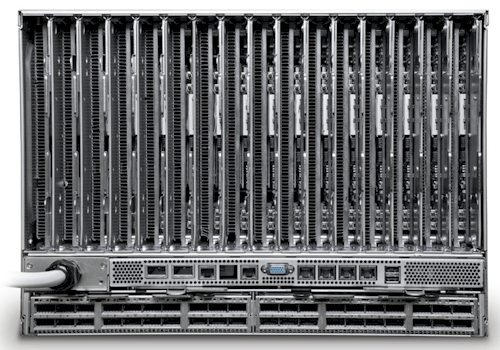 The hot end of the T-Blade 2 chassis with CPU-GPU blades installed
Alexey Nechuyatov, director of product marketing at T-Platforms, says that the T-Blade 2 chassis can be equipped with two 36-port InfiniBand switches from Mellanox. When you add it all up, the T-Blade 2 chassis with the CPU-GPU blades can pack 17.5 teraflops in a 7U enclosure for a list price of around $300,000 for a fully loaded box. If you buy ten racks of these babies - that's 60 blade chassis for $24m - you are near the top of the Top 500 supercomputing list for a little more than half the price of what a Cray XE6 will run you for the same oomph. The only difference is that you have to have code that can make real use of the GPUs.
The T-Blade 2 chassis and CPU-GPU blades will begin production in the fourth quarter and shipments to initial customers at that time. They will be generally available in the first quarter of 2011. Nechuyatov says that T-Platforms is using the GPU Tech Conference and the fact that it has a CPU-only blade cluster installed at Moscow State University that ranked number 15 on the June 2010 Top 500 list as a means of breaking into the HPC market in Western Europe and North America. T-Platforms has more than 200 customers worldwide and has labs in Moscow, Hannover, Kiev, and Taipei.
The other news coming out of the GPU Tech Conference is that IBM will launch a GPU-based blade for its BladeCenter chassis tomorrow. Hewlett-Packard is also whispering a bit about its own GPU blade for its BladeSystem enclosures, which sources tell El Reg the company has been quietly shipping to a few customers. The word we hear is that this HP blade will launch in October. ®