Moms stand firm against antenna madness
Won't someone think of the children
The American town of Hempstead, Long Island, has decreed that phone masts can't be placed within 1500 feet of children, making coverage nearly impossible.
The restrictions specify a 1500-foot exclusion zone around homes, day-care centres, schools and churches - all the kinds of places where one might want mobile phone coverage. It is claimed that the rules are needed to preserve property values in the region, in order to get round the federal restriction on making allowances based on fanciful health scares.
"The siting of cell towers and antennae ... would adversely impact home values or the character of local neighborhoods" the town supervisor told the Associated Press, though the rules are being hailed as a victory for the local campaign group Moms of Merrick, which clearly put health scares at the centre of its agenda.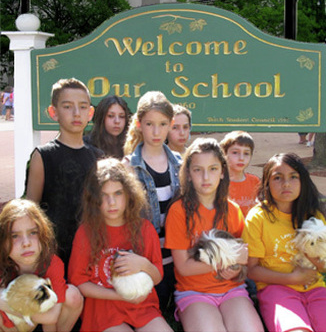 Either they're depressed about cellphone coverage, or just hate guinea pigs
Not that the Merrick Moms are against cell phones as such. They want decent coverage but they also want to be rid of all those transmitters that appear "in front of our homes overnight" (their emphasis), and "emit radiation 800 feet in every direction". Presumably they'd like fitters to turn up in the day time and put antennas in front of someone else's house - perhaps someone who doesn't have children and is thus of less value to society.
Having had enough of local authorities letting unfounded health concerns block development, the federal authorities passed a law in 1996 that prohibits blocking the construction of cell towers on health grounds. Thus residents are forced to play the property-value card.
This is ironic really, given that in many countries mobile coverage increases property values, with operators proudly painting their masts in bright colours for all to see. But in America and Europe we prefer our masts to fade into the landscape - and operators have adapted.
This won't help the Moms of Merrick, who highlight the hidden cell towers as evidence of the insidious nature of the cell phone companies. That puts the network operators into a lose/lose position - make them obvious and people complain, hide them and you're plotting. ®