This article is more than 1 year old
RIM unveils The BlackPad BlackBerry PlayBook
Hey, Steve. It runs Flash
BlackBerry Devcon Update: This story has been updated with additional information from RIM's DevCon keynote.
Research in Motion — maker of the BlackBerry — has unveiled an Apple-battling tablet version of its email-friendly handheld.
They call it the BlackPad BlackBerry PlayBook. And as rumors indicated, it's based on a new operating system from QNX, a RIM-owned outfit whose embedded OSes are used in everything from Cisco routers to automobiles. The OS is known, appropriately enough, as BlackBerry Tablet OS.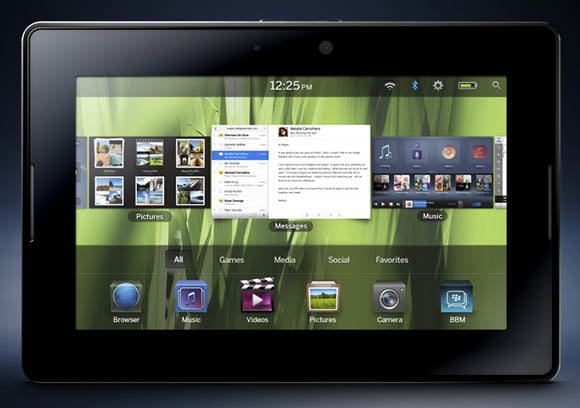 The BlackPad PlayBook
RIM president and co-CEO Mike Lazaridis lifted the curtain on the "multi-touch" PlayBook this afternoon at RIM's annual developer conference in downtown San Francisco. Measuring 5.1 by 7.6 by 0.4 inches and weighing about 0.9 pounds, it includes a 7-inch display, a 1GHz dual-core processor, 1GB of RAM, HDMI and USB connectors, Wi-Fi, Bluetooth, and front- and rear-facing HD cameras. And in a clear answer to Steve Jobs, it offers Adobe Flash 10.1.
Yes, the PlayBook connects to existing BlackBerry Enterprise Servers, which, according to Lazaridis, now number 250 million worldwide. And RIM will offer a full native SDK when the device arrives to market. QNX founder Dan Dodge also said that the company is working on a Java VM. The SDK will handle OpenGL. And it will include Adobe AIR.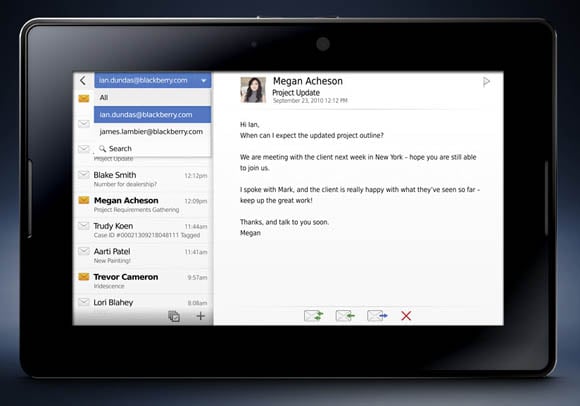 The iPad email app The PlayBook email app
Dodge indicated that QNX has been developing the PlayBook for over a year — i.e., since before it was acquired by RIM.
Before revealing the PlayBook, Lazaridis unveiled a web-based development platform for the BlackBerry and the BlackBerry PlayBook known as WebWorks, a means of building apps in HTML5, CSS, and JavaScript. It allows for in-app payments, and it provides in-app advertising via RIM's new BlackBerry Advertising Services. It has been open sourced on GitHub under the Apache 2.0 license.
Lazaridis did not say how much the PlayBook will cost, when it will be available, or how it will connect to the interwebs. But a press release on RIM's website says that the device won't arrive until "early" 2011 in the US, with international markets to follow in the second quarter. The release also indicates that, at least initially, the device will not include cellular wireless connectivity. "RIM intends to also offer 3G and 4G models in the future," the release says.
The device will connect to existing BlackBerries via Bluetooth, letting you display BlackBerry data through the tablet. Content from the BlackBerry will be cached on the tablet, but not stored there.
The BlackBerry Tablet OS SDK will be available "in the coming weeks." Developers can register here. ®