This article is more than 1 year old
Keene USB FM Transmitter
Wireless music for 15 quid, surely not?
Review While we're all being encouraged adopt to DAB and dump our FM radios, these sonic stalwarts from the analogue era may well get a second wind, at least if the likes of Keene's USB FM Transmitter catch on.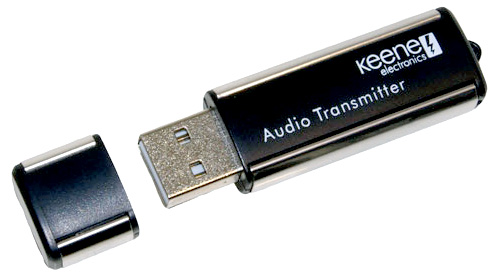 Keene's USB FM Transmitter: for the wireless, not Wi-Fi
What the Keene USB FM Transmitter offers is more akin to a Wi-Fi streaming set-up but uses FM to propagate the broadcasting instead. The device simply transmits the audio output from your Windows PC using a USB dongle no bigger than a typical flash drive. The idea is not exactly new, with iPods having had transmitter adapters such as Griffin's iTrip to use in conjunction with car radios for some time now.
However, with this device, no matter what's playing on your Windows PC – be it iTunes, an Internet radio station, a CD or even the soundtrack from a favourite music DVD – your household FM tuners can receive it.
The Keene USB FM Transmitter comes with one of those godawful mini CDs to run the Windows installer from, but thankfully, you can download the software from the product web page here. The USB Audio Transmitter application instals quickly and is fairly intuitive, even though the garbled graphics on the top left of the interface – that should show the application's name – appear rather confusing. The actual transmitter hardware comes with a 32in USB extender lead.
Before delving into the USB Audio Transmitter application, plug in the adapter and the hardware drivers should load. Now take a peek at the Windows Sound and Audio Devices control panel. The default Sound Playback must be set to B-Link USB Audio. With that option selected, you'll discover that you'll not get a peep out of your PC, you'll need to have an FM radio tuned in to hear it now.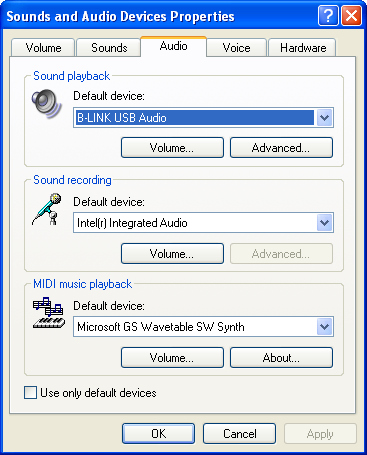 With the B-Link driver selected, the PC's audio output is routed to the transmitter
To configure the USB Audio Transmitter click the cog icon to get to the settings that offer various alternatives depending on location. You can select mono or stereo broadcasting here too and the TX Gain will vary the overall volume output. It's worth tweaking this if you're underwhelmed by how loud your reception is, but go too far and you'll hear distortion.