Spare a thought if you will today for David Jonathan Winkelman, a 48-year-old Iowa man whose arrest last week for failing to appear in court to answer a minor misdemeanor charge prompted his rapid elevation to net celebrity.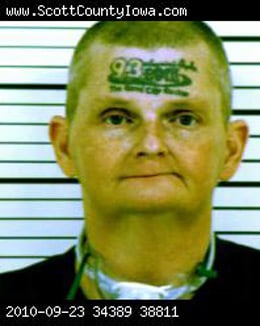 The reason for Winkelman's fifteen minutes of fame is pretty clear, because the silly sod's mugshot shows an unmissable tattoo for radio station KORB.
The poor bloke has been promoting KORB since 2000, when he and his stepson Richard Goddard responded to a disc jockey's offer of a six-figure sum for anyone who tattooed the station's ident on their forehead.
The pair duly obliged, and presented themselves at the station sporting "93 Rock" and "Quad City Rocker" tats, only to be told they were the victims of a jolly jape.
The two subsequently sued, although Winkelman later dropped his suit and a judge dismissed Goddard's claim when he failed to show in court.
Winkelman would probably have lived out the rest of life in relative peace, had he presented himself before the beak to answer a charge of "operating a motor vehicle without the owner's consent", and therefore avoided exposure in the Scott County Jail Inmate Listing.
To add insult to injury, The Smoking Gun explains that KORB changed its name following the tattoo kerfuffle, and is now known as "KQCS, Star 93.5". ®