Olympus LS-5 linear PCM recorder
Sound idea?
---
Transport Dispute
The high-resolution recording has audiophile appeal, but it's debatable whether audiophiles would choose this recorder because of its transport control shortcomings and sonically distressing speakers. Like the LS-10 – and, it appears, the forthcoming LS-11 – there is no audible fast forward/back facility to help search for a section.

What's worse than a nasty, tinny speaker..? Two of them
You get this level of functionality on an iPod and even MiniDisc gear before that, why not on a £200 audio recorder? Olympus describes the LS-5 as "delivering what musicians, journalists and podcasters have been waiting for…" but if you can't audibly shuttle during playback, then prepare for a lot of waiting to locate those sundry soundbites.
There are different mic modes, which are only available to the compressed audio and CD-quality 44.1kHz/16-bit settings, anything higher than that is verboten, as is the mono option. The mic effects should be handled with care, some modes introduce artefacts: Wide is airy, but somewhat gutless; Zoom is good for capturing conversation in noisy environments – offering background noise suppression – but not ideal for music given its filtering artefacts. Narrow also subdues ambient noise – but not as extreme as Zoom – and is a good compromise for challenging environments.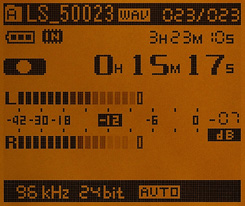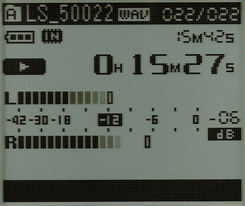 Identity crisis: when recording (left) resolution info is shown at the bottom,
but during playback (right) the only information you see is the file type at the top
Annoyingly, playback mode doesn't indicate any of the mic modes used nor the audio file resolution choices – just the file type appears at the top next to the cryptic file name. Yet at the bottom, the recording format details are shown along with icons depicting various mic mode settings. It's handy to be reminded of this, but during playback, this bottom line of recording info blanks out and really should be used show more about the actual file being heard. Still, the Function key can be assigned to jump to the Properties page that will provide file format information.