Olympus LS-5 linear PCM recorder
Sound idea?
---
Gimmix! Play Loud
There are gimmicky reverb playback enhancements too, but alas, no bog standard equaliser. Even so, we have a capable portable recorder here, although the built-in stereo speakers still sound terrible. Powered by two AA batteries, the Olympus claim that they last for 23 hours is only for PCM audio recording, which is less demanding than the number crunching required for the compressed formats. Still, the recorder can run from an external PSU if needed for a long stretch.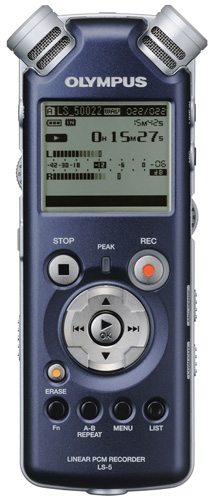 Sonically appealing, but lacks refinement as a standalone recorder
A new feature that can certainly help on longer form projects is the Audio Divide option that simply splits up the track at the point where you pause playback. Yet this function is a let down because it only works on PCM files, when it's the MP3 and WMA compressed options that offer longer recording times, but neither format can utilise this feature. Adding to the list of gripes, there's no track naming function, so the numbered recordings just have more numbers tacked on the end when divided. Indeed, the thinking seems to be to rely on the user with the editing software to do all the work, at the cost of offering better functionality on the device.
Verdict
The LS-5 shows that Olympus doesn't care to address the criticisms of the LS-10. The issue being that both the LS-5, and the LS-10 before it, are based on dictation machines. By making these models robust, and with a decent the sonic performance, Olympus believes that the LS-series has a place for musicians and audio professionals. Yet, operationally, the LS-5's hardware/software combo fails to address the demands of users at this level, and couldn't be described as a sound choice. ®
More Audio Gear Reviews…

Keene
USB FM
Transmitter
Apple
iPod Touch 4G
Bowers & Wilkins
P5
M-Audio
Pro Tools
Recording Studio

Olympus LS-5 linear PCM recorder
Robust, portable, high-resolution audio recorder with its own software editing package.