More news out of the US military's "Transformer TX" flying car project today, as an alliance of aviation firms is awarded initial funds to start work on a combination of 4x4 Chelsea tractor and autogyro jump-copter.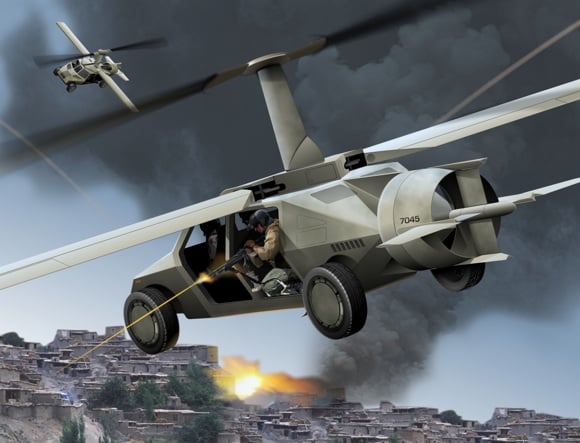 If they shoot the wings off we've still got the rotors
According to an official contract notification issued yesterday, AAI Corporation (a unit of US defence mammoth Textron) will receive $3,049,562 to begin work on the Transformer TX project.
Transformer TX, as we have previously reported, is intended to produce a vehicle able to drive on the ground with similar performance to a Humvee or other offroad vehicle. It must also be able to take off vertically with 1,000lb of passengers and payload aboard and fly about at altitudes up to 10,000 feet at speeds equivalent to normal light aircraft.
Perhaps best of all, the Transformer TX is also intended to be fully automated, capable of flying itself with only the most basic guidance from its human operator - who would not, therefore, need to be a highly trained pilot.
In other words, then, a flying car - and quite possibly one that anybody could use. But how will it work?
Various contenders have come forward for Transformer TX, including the Tyrannos ring-wing fancraft concept, and others which are more or less just helicopters with better wheels. AAI, however, intend to make use of the jumpcopter autogyroplane plan developed by CarterCopter. Various cunning personal aircraft have been designed and even tested by CarterCopter over the years, but mainstream backing was absent until 2009, when AAI bought the unmanned-aircraft rights to the firm's "slow rotor/compound" (SR/C) tech.
The SR/C idea is basically a winged, propellor-driven light aeroplane with a set of free-spinning autogyro rotors on top. It's not a helicopter: the engine can't drive the rotors in flight, and a sustained hover isn't possible. Nonetheless, though, the CarterCopter can take off vertically as required by Transformer TX rules.
It does this by having weighted rotor tips, meaning that a lot of energy can be stored in the spinning blades (rather as in a flywheel). Sitting on the ground, a small engine-driven "pre-rotator" assembly can gradually spin the rotors up to high speed. The pre-rotator, pleasingly, doesn't have to transmit a lot of power - thus it is lightweight, cheap and simple compared to a helicopter's transmission. Nor is the engine required to deliver the massive grunt required to keep chopper blades spinning hard enough to support the aircraft.
Once the rotors are at takeoff speed, the pre-rotator is declutched, the prop engaged and the pitch of the rotors pulled in so that they start to bite air. As they slow down, the energy stored in their whirling weighted tips blasts air down through the disc and the aircraft leaps vertically into the air in a "jump takeoff".