This article is more than 1 year old
YouTube accounts for 13 percent of mobile data
Mobile TV seems to have happened
Video streaming now makes up 35 per cent of data carried over the mobile networks, with YouTube supplying 40 per cent of that, so the airwaves are filled with TV all over again.
The figures come from the Allot MobileTrends report for the fist half of 2010, based on data passing through operators around the world with a total of 190m subscribers. That data shows video streaming in the first half of 2010 was almost double the previous six months, and is now the largest consumer of mobile bandwidth as everyone seems to be watching TV on the move: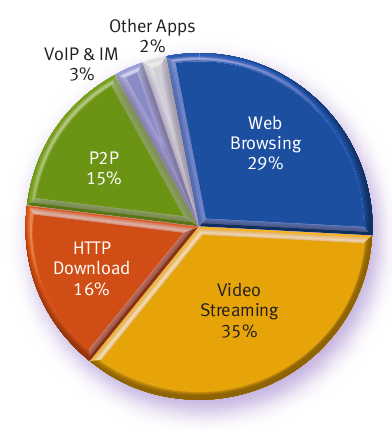 YouTube counts for 40 per cent of the video, so what are the rest watching?
VoIP has also increased hugely since 2009, rising more than 80 per cent which should concern mobile operators despite the fact that VoIP is still a small proportion of the total. Mobile VoIP is dominated by Skype, whose traffic makes up 83 per cent of voice total.
Also on the rise is Facebook, traffic to which is three times what it was in 2009, and Twitter, which is up by more than four times. Allot puts that down to increased availability of specialist applications, but notes that (according to Facebook) mobile users are "twice as active" as their desk-chained contemporaries.
All of which leads to a 68 per cent increase in the consumption of mobile data around the world, which is nice for mobile consumers but one has to ask who is making money from all that mobility?
Operators aren't - customers making voice calls subsidise data users, who are still a loss leader in most countries. Mobile Facebook and YouTube aren't delivering adverts so there's no revenue there. Twitter's ability to make money on any platform is still very suspect, which leaves Skype as the only company delivering a mobile service and seemingly making money from it.
So while the rate of data consumption continues to rise we should enjoy this nirvana of free and cheap mobile services - it's not going to last forever. ®